Ashley McKinnon of Smyrna, Tennessee is a freelance prostitute who posts her services on Backpage.Com. She is apparently a jill-of-all-trades, because she decided to add armed-robber to her resume'.
Sources report that Ashley McKinnon, the smug-looking wreck you see on left, was offering her sexual services on the popular site, Backpage.Com where she met her "John". The man, who isn't being named, apparently ordered her for delivery, because he invited her to his Clarksville home. When she arrived, two other women were with her and they overpowered him; hitting him with a hammer and spraying him with pepper spray.
In all, McKinnon walked away that night with over $5,000.00 worth of cash and belongings, but she apparently isn't all that bright because she left the guy in good enough shape to call the authorities. The man admitted that he met the woman through her hooker services on the website and they were very quickly able to track her down — you know, because she's not that bright, remember?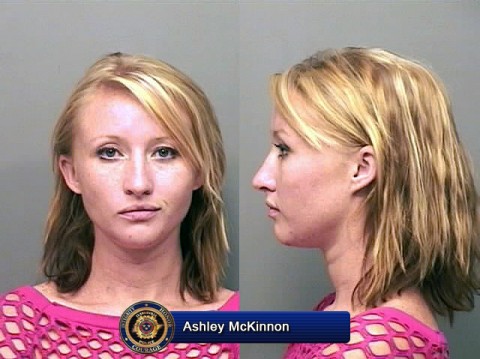 Ashley McKinnon is charged with armed robbery, but sources didn't clarify on whether or not she is being charged with solicitation (prostitution) if not, it's obvious that the state of Tennessee isn't following through with the need to crackdown on human trafficking.
—~~*~~—
©2011 Chelsea Hoffman is the Author of "Chloe and Louis," and the "Fear Chronicles," series of books. She also covers a myriad of true crime stories online. Click here to visit Chelsea Hoffman's official blog and contact website. Be sure to like the page to become a fan!
—~~*~~–