Beaten, starved, sexually assaulted and suffocated, Baby Hope was finally introduced to the public after more than a decade of obscurity, and her first name is what you might expect for a child: Angelica.
Police have not released her name at all, or that of her mother, who they have been questioning since DNA evidence pointed them in her direction. but NDTV revealed on Oct. 10 that it was a person familiar with the decades-old homicide investigation that revealed the new detail about the murdered child. Angelica's mother and other relatives have given information to police about the child, and now investigators are concentrating on finding Angelica's father, and his family members.
The former investigator who helped keep attention on the case even after he retired from the police force says he and the other officers will "never give up hope" in locating the child's killer and bringing him to justice. And when he found her wrapped in a shower curtain inside that cooler all those years ago, Jerry Giorgio made a commitment to keep the faith when it came to finding who did that unthinkable act to a little girl. And he has kept his word, revisiting her grave recently to let her know he is still on the case.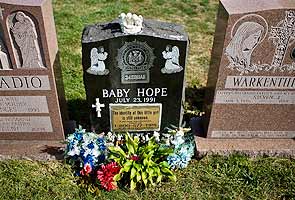 Baby Hope grave site photo credit: NDTV.com