Basketball Wives has received lots of negative attention lately, because of the amount of physical violence that is filmed as part of the show. Evelyn Lozada may be the focal point when it comes to throwing punches—and bottles, but some of the other stars resort to verbal bullying to get their point across. While Tami Roman wants to blame producers for choosing to focus on the fights rather than the stars, Shaunie O'Neal agrees that the bullying and fighting has gone too far.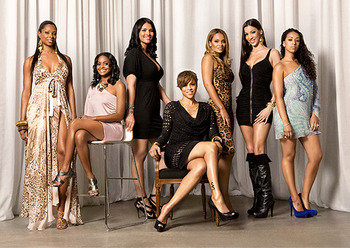 "Sometimes it can be a little bit of some bullying going on, because of the personalities being a lot stronger," Shaunie has said of the drama that has now lead to a lawsuit. "Evelyn's personality is a lot stronger than Jen's," she continues. This Basketball Wives star explains that while fans may see it as bullying, she doesn't think that Jennifer Williams is walking around and calling herself a victim of bullying. "I think she's strong in her own way, it's just a different way of dealing with it." There is one thing that Shaunie says that people needs to remember; these women are grown-up and can easily just remove themselves from the show if they don't want to be associated with the drama. Yet, none of the women are breaking contract. They want to be on the show and none have said that they are embarrassed to be on the show because of what it promotes.
Jennifer hasn't spoken out on the bullying matter. She has said that she filed the lawsuit because she felt violated by being smacked in the face. However, during a dinner, she said that she uses her face to sell her business products, so she doesn't want her face ruined. But is she a victim of bullying? Well, the public seems to think so. Perhaps the public is treating these women as children who can't make their own decisions.
Should the women continue to physically fight it out? Should unhappy viewers just stop watching?