Politics is a staple for adults and Halloween. So what is the hot political statement trending this year? Why it is the Big Bird costume of course. After presidential hopeful Mitt Romney pledged to rein in government spending, he gave examples. His criteria to be met to escape the chopping block, "is it so important, so critical, that it is worth borrowing money from China to pay for it?" Romney added he liked Big Bird but funding to PBS would stop.
The internet exploded with Big Bird jokes. After the October 3 debate, Google reports a 600 percent increase in costume searches for the Sesame Street staple. Maddie Gerety, brand manager at Disguise, the official licensee and supplier of the costume, could not be more pleased.
Gerety states this has been the biggest year ever in sales for that costume. The San Diego based company sold the costume out in days. With demand still high for Big Bird, Disguise states there is little it can do.
What prevented Disguise from fully maximizing on this year's trend? Oddly enough, the costume is made in China. If it were produced in the U.S., production would have shifted to meet demand. With production in China, time is the crucial factor. Unbalanced trade with China has been a mainstay in the Romney campaign.
The character's popularity this year is an effort to mock Romney and protest funding cuts of PBS. The Big Bird costume is the political statement to make at parties this year. Exactly which side of the issue is benefiting? A sea of Big Birds is a show of support for PBS funding. Proponents in favor of cutting spending argue this is a prime example. China is profiting from the sales of products manufactured in China from icons funded in loans from China. It's a win-win for them.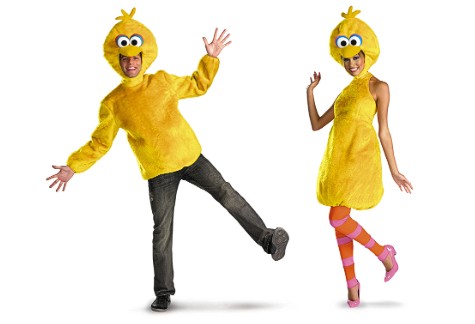 Photo source: CNN, Disguise Inc.