A group of students working on a school project in the woods 80 miles south of Pocatello, Idaho, found enough evidence of Bigfoot that experts are coming to the area this month to investigate!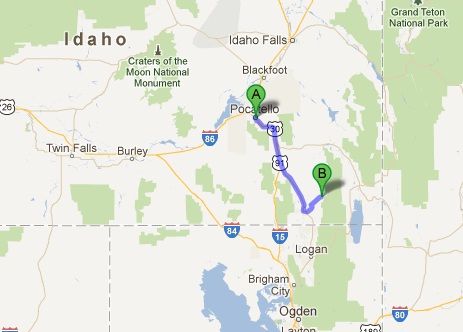 What makes this case so striking? How about a video and photographs! The students were working on their project at the west fork of Mink Creek (B), south of Pocatello (A), when they realized someone, or something, was watching them. Up on a ridge, they spotted it… "It just didn't look humanlike. I don't know what that is; it's not a bear; it's not a moose or anything. It was big and bulky and black," said a student. One of the kids started filming with his phone until the creature took off.
The brave students headed up the ridge to check it out! They found some gigantic footprints and took photos. "…a large dark figure that bears a striking resemblance to descriptions of Sasquatch," says Sasquatch expert and Idaho State University professor Jeff Meldrum. He says there is a rich history of immigrants and others spotting "strange and marvelous things like stories of wild men and mountain devils" in that area. Usually, Sasquatch sightings are in the Pacific Northwest and British Columbia areas.
Is it a hoax? Doubtful. Historically, scammers in cases like this want the notoriety and attention that comes with sightings. The student that owns the tape doesn't even want his name released. Anatomist Trent Stephens said, "There's always room for a hoax, but this was pretty amazing." It was enough to convince Animal Planet to venture into Pocatello later this month to film their program, Finding Bigfoot. They plan on talking to other people about the sightings in the area.
Stephens compared the video to the famous Patterson film taken in 1967 at the Klamath River in California. "I was just dumb-founded," Stephens said. "That arm swaying is exactly like the Patterson film." The student said, "I'm not going to say yes it was a Bigfoot or no it wasn't, because I don't know, and nobody knows." Maybe Finding Bigfoot will have more answers when it airs!
Map: Google Maps
© Margie Wilson-Mars 2012