The body of Jade Morris was likely found this afternoon in North Las Vegas by a man who was walking his dog. Now detectives are investigating whether or not this girl's disappearance is a homicide. This is the latest update in the case of the missing Las Vegas child, and it appears that this is the makings of a horrific tragedy.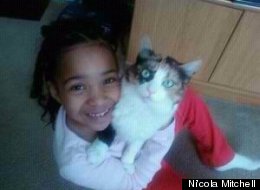 Authorities say the body of a small black female was located in an unfinished housing development in North Las Vegas, and even though an official autopsy hasn't been completed, Capt. Chris Jones believes that the body does belong to the child.
Jade Morris was last seen (allegedly) in the company of Brenda Stokes who was arrested on Friday for slashing a woman's face at the Bellagio. She has since refused to cooperate with investigators, claiming that she never had the missing girl in her custody. However, there are new reports indicating that the woman had stopped taking an anxiety medication and is alleged to have told police that she sought the help of a doctor claiming she had feelings of wanting to hurt someone. She is also reported to have told detectives that "sometimes people snap."
The father of the missing girl was removed from a Clark County courtroom today after an outburst that disrupted proceedings. The man reportedly shouted during court, "Where's my baby at?" But he was removed from the courtroom. No doubt this man is in a state of panic after learning that the woman he's trusted for several years may have done something to his daughter.
Hopefully the body found in North Las Vegas this afternoon is identified soon so the wheels of justice can begin turning.
Photo: Huffington Post
Crime analyst, profiler & future criminologist Chelsea Hoffman can be found on Huffington Post or Chelsea Hoffman: Case to Case. You can follow her on Twitter @TheRealChelseaH or contact her via her personal blog. Fan the Facebook page for updates on missing persons cases, issues in civil rights and details on Chelsea's fiction works.