The body of Jason Cobb was located at around 5:00 p.m., Wednesday, but the second man in this missing persons case remains missing. Searches for Charlie Jackson will continue as usual, but officials have already clarified to the media that they don't believe either young men will have survived this disappearance. With the discovery of one of their bodies, it's even more of a reality.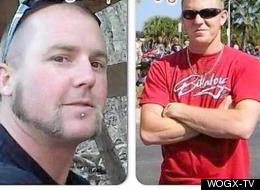 It should be noted that there are no visible signs of foul play on Jason's body, which indicates a slew of other possibilities in his death. Until an autopsy is performed, it's best to keep speculation at a minimum. However, it might be good news to know that alligators seldom attack this time of year. They hibernate in deep underwater caverns/caves and go inactive through much of the cold season.
Jason Cobb and Charlie Jackson vanished on Saturday after reportedly being "ejected" from a bachelor party. They were known to had taken a boat out on waters that are known to be infested with alligators, and it's presumed that they could have been under the influence of intoxicating amounts of alcohol. This appears to be a tragic case of what happens when you drink too much and then go out on the water, and that's a complete shame.
Photo: The Huffington Post
Crime analyst, profiler & future criminologist Chelsea Hoffman can be found on Huffington Post or Chelsea Hoffman: Case to Case. You can follow her on Twitter @TheRealChelseaH or contact her via her personal blog. Fan the Facebook page for updates on missing persons cases, issues in civil rights and details on Chelsea's fiction works.