Nick Stoeberl, a stand-up comic from California, claims he has the world's longest tongue and he's submitted the proof to Guinness in hopes of beating the current record holder–by 2/10ths of an inch!
The current record holder, Stephen Taylor, sports the longest tongue at a whopping 3.86 inches, but Stoeberl claims his is 3.88 inches long. Not much, but just enough for a record?
The matter is up for dispute as Stoeberl admits he's sent all the paperwork to Guinness but they have yet to respond that they've logged it all in.
Does having the world's longest tongue help him in his stand-up career? According to Stoeberl, not really. And he's keeping his job options open. "I'd like to do food reviews," he said. "I think I have a higher sense of taste than other people. I always have a sweet tooth–especially for chocolate and Starbursts."
Have a lick.
Oops! Sorry! Have a look: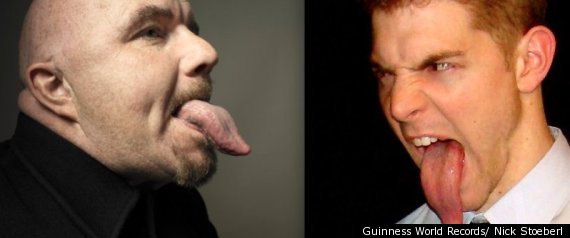 Image courtesy of the Huffington Post