This week on Californication, Hank Moody gets a little of his own medicine, when Becca is found smoking and drinking to drown out her own sorrows. She tells her father that she finally understands why he drinks; it masks the hurt and pain.
"It's much better this way," she tells Moody.
Marcy goes to a clinic to have an abortion but canÂ't go through with it. The nurse calls MarcyÂ's name, and she hides behind a couch. Karen reminds Marcy that she has gone back and forth on the appointment and must not want the baby.
Marcy says, "I hate kids."  She decides, for now, to keep the baby, citing that maybe this is her one chance to be really happy, and she's trying to kill it.
Stu asks Marcy to move in. As they sit out by StuÂ's pool, Marcy tells Stu sheÂ's pregnant. Stu assumes itÂ's his and begins crying with joy. Marcy tries to tell him the baby is RunkleÂ's, but sheÂ's cut off by a phone call–StuÂ's mother. Stu tells his mother heÂ's going to be a father and is ecstatic.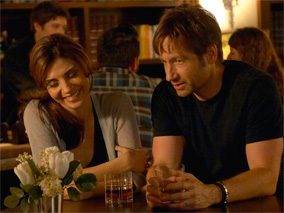 Meanwhile, Moody finds himself in another jam. He meets a woman at the bar of his hotel and, of course, they have a roll in the hay. When Sasha comes over to HankÂ's place to work on her new script, she finds her mother coming out of the restroom.
Moody tries to patch things up with Sasha and keep the relationship professional, as Sasha has asked Hank to polish her script that sheÂ's working on, a zombie sequel titled We Rot 2.
Is Hank going to lose his $100k job on We Rot 2? Will Marcy keep the baby? Is Becca going to need help? Stay tuned to Californication on Showtime, Sunday 9ET/PT.