The quest for the second superstar continues for the Chicago Bulls. With their leader still sidelined the team is hoping they can have a gift waiting for him when he returns. Are Tyreke Evans or Kevin Love realistic targets?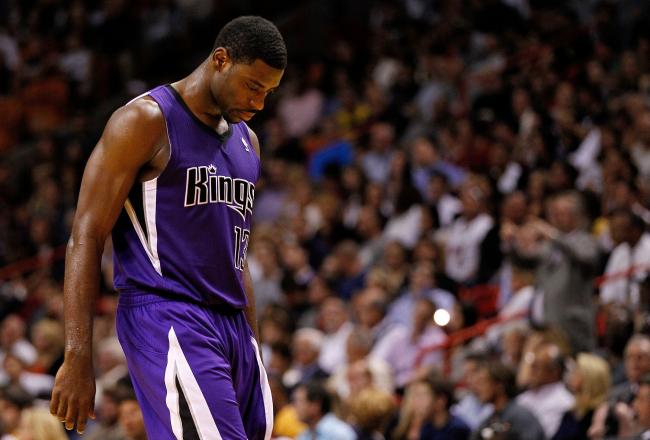 Carlos Boozer playing for his job with Derrick Rose out
Chicago brought in veteran Carlos Boozer to become their presence around the basket who can score in the post. Two seasons into his mega-contract and Bulls fans aren't impressed. Many argue he doesn't play good defense and is has no effect on a game if he can't get his shot going early. He's averaged 13 points per game in the playoffs. That is not worth a max deal equal to a LeBron James or Kobe Bryant. As Derrick Rose tries to get back from his torn ACL the Bulls have tried to rebuild the roster with veterans players who can keep the team afloat. That doesn't excuse Boozer from doing his job. If he does the team might not get too aggressive next year in free agency. Whether that's possible is hard to see. The man turns 31 years old in November and doesn't have the legs he used to. Part of the key to getting Chicago a championship may rely on finding younger talent. Boozer must prove he can hold up his end of the deal or the Bulls management may push owner Jerry Reinsdorf to let them go hunting.
Evans and Love unclear on NBA futures past 2012-2013 season
Two names that Bulls fans can't help fantasizing about are Tyreke Evans and Kevin Love. They don't play the same style of game but they do share something in common: they play All-Star level basketball. Love is the reigning NBA rebounding champion, winner of the 3-point shooting contest and averaged 26 points per game last season. He is the exact kind of player Chicago wants next to Derrick Rose. His frustration with the Minnesota Timberwolves and their losing ways makes the hopes of getting him only go higher. On the flip side Evans has spent the last few seasons living in the shadow of his first season when he won Rookie of the Year. Injuries have played a big part in his struggles. His talent can't go ignore but the Sacramento Kings won't wait on him forever. He is a free agent in 2013. A good year might keep him on the west coast but a strong push from the Bulls may lure him to Chicago to team with Rose.
Carlos Boozer holds his NBA fate in his hands. A good year could save his job but if he struggles the Chicago Bulls won't wait on him. If Kevin Love or Tyreke Evans become available then Rose will have new company next off-season.