The hideous new Chris Brown tattoo is attracting a lot of attention (which is, of course, what the singer wants), and–also of course–he is staunchly defending another of his poor choices via Twitter. He echoed what his rep released in a statement yesterday saying the tattoo is not of ex-girlfriend Rihanna in a battered state, despite what many call an eerie resemblance. Brown tweeted: "I'm an artist and this is art. Dia de los Muertos." Congratulations, Mr. Brown. You "know" a couple of words in Spanish, absolutely nothing about art, and are successfully establishing yourself as one of the ugliest and most disgusting people on the planet.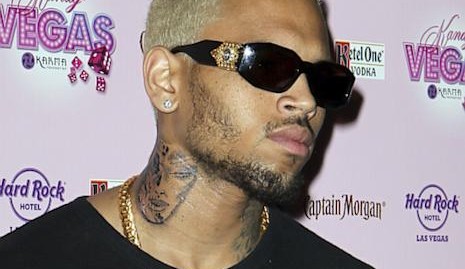 The ink, which takes up the majority of the right side of his neck, depicts a skull that allegedly represents the Day of the Dead, although it does a pitiful job. It is of a woman's face, half of which appears battered and bruised, with stitches and a black eye. (If you look up images for Day of the Dead, most results show pretty–yes, pretty–skulls decorated with colorful flowers and designs.) Brown is absolutely full of it, although his publicist and the tattoo artist both back him up, saying the tattoo is "a sugar skull based on…[an] MAC cosmetics design he saw." Here's the original drawing. It's sort of cool but the tattoo artist did a terrible job of putting it onto skin!
Apparently an hour after Brown tweeted about the tattoo, he then tweeted that his new video, appropriately entitled "Don't Judge Me," would also be released soon. Could he really have thought that his tattoo would not associated with his beating of Rihanna? The Chris Brown tattoo is not art. It's sheer idiocy and offends the sensibilities.
Both photos courtesy of ABC News.