Blood belonging to Christian Aguilar was found in the home of the suspect in his presumed murder, as well as a backpack belonging to the missing man. Pedro Bravo currently sits in jail on charges of murdering Aguilar, even though the young man's body still hasn't been recovered. The presence of blood, however, redeems the idea that officials do have enough evidence against the suspect to assume that he murdered Christian.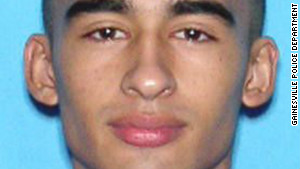 That's not the only evidence against Pedro Bravo. Police also found that he had purchased a roll of duct tape and a shovel days before the murder of the University of Florida freshman. Combine these activities with the discovery of blood and Aguilar's belongings just thickens the suspicion against Bravo.
The disappearance of Christian Aguilar is a nightmare for his family, and that nightmare is becoming worse with each day that passes—especially with the knowledge that the young man was most likely murdered by a longtime rival of his. Bravo and Aguilar were former classmates, who the father of the missing man referred to as "rivals." It looks like Pedro took that rivalry way too far.
Photo: CNN Justice
Crime analyst & profiler Chelsea Hoffman can be found on Huffington Post or Chelsea Hoffman: Case to Case. You can follow her on Twitter @TheRealChelseaH or contact her via her personal blog.