Code Pink protesters raised red hands during the House Foreign Affairs Committee Hearing on Syria today, quietly condemning a military strike.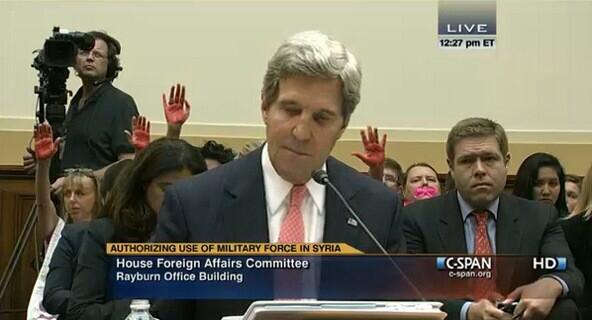 Tom Kludt of Talking Points Memo compiled some of the tweets coming from the hearing today. As an aside, Congress indeed came into Washington before their summer break was over, despite the headlines.
The main justification by the Obama Administration for military strikes in Syria is the alleged use of chemical weapons by the Assad regime.
Rep. Joe Wilson asked a very good question,
"Where do the chemical weapons come from?"
After a bit of stammering, Defense Secretary Chuck Hagel responded "there is no secret that the Assad regime have had a significant stockpile of chemical weapons," He continued to say that the chemical weapons come from Russia and "other countries" and additionally, "they make some themselves."
Who is to say that if America conducts a military strike on Syria, effectively removing all of their chemical weapons, that the Assad regime will not make more?
Kerry is greeted by @codepink as he arrives for House hearing on #Syria. Photo by Jason Reed http://t.co/ApcSFA0bff pic.twitter.com/c2uMObahTP

— Jim Roberts (@nycjim) September 4, 2013
Code Pink is a radical organization. After all, they are the same group that wore giant vagina costumes at the Republican National Convention last year, effectively marginalizing themselves. On Syria, even if there was a reasonable strategy, they would likely oppose. It is a rare moment when this author would support their efforts and in this case, they are correct.
Image Source: Twitter
Follow Renee Nal on Twitter @ReneeNal and Facebook.
Check out her news and political commentary on Liberty Unyielding, the Examiner and Tavern Keepers for news you won't find in the mainstream media. Renee is also a guest blogger for the Shire Blog.