It's way too early to dream but the Chicago Bears should have a pipeline to NFL rumor sites. No one would dare think it possible, but if there's truth to it, the Miami Dolphins may have run their course with left tackle Jake Long.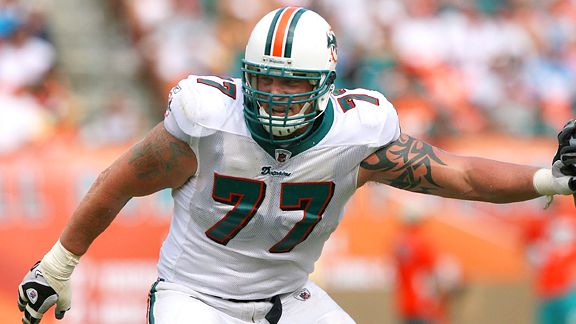 Long would solve all the problems for Jay Cutler and Matt Forte
Some fans and experts would quickly point out that Long suffered a couple bad injuries last season. The obvious counter to that is the standout left tackle played through the pain, is still young and has already reached four Pro Bowls. If ever there was a lineman the Dolphins wanted to keep it was him. That changed when Stanford tackle Jonathan Martin heard his named called by Miami in the NFL draft. Long is known best for his run blocking and with new coach Joe Philbin coming in with a pass-first system, Martin was clearly a pick for his polished pass protection. The reason this is big news for a team like the Chicago Bears is the base of their offense centers on running back Matt Forte. Their points come off big runs from him and play action passes from Jay Cutler. Bears fans practically rioted in the streets when GM Phil Emery didn't take a single offensive lineman in the draft. A potential trade for a four-time Pro Bowl left tackle would quiet those protests in nanoseconds.
Alshon Jeffery and Brandon Marshall would benefit the most
While Cutler and Forte are the known leaders of the offense, it's the shiny new Chicago wide receivers fans can't wait to see. Second round pick Alshon Jeffery and Brandon Marshall, a former Dolphin, suddenly gives the Bears another dimension to their already established ground attack. The only thing left for Chicago to do, in the fans minds, was make sure Cutler stayed on his feet when he dropped back to pass. Current left tackle J'marcus Webb had a rough season a year ago but has vowed he'll get better. At 23 years old he has plenty of time, but Bears fans aren't known for their patience. A trade for Long would solidify a young, improving line with star power and veteran leadership. Combined with line guru Mike Tice running the offense, Chicago could have the most talented offense in its history.
Jake Long makes too much sense for the Chicago Bears. He's an experienced left tackle with talent and is just entering his prime. If the price isn't too high, perhaps the Bears could get their second Pro Bowler from the Miami Dolphins in two months. Brandon Marshall and Alshon Jeffery would welcome the move, as would Jay Cutler and Matt Forte. Dreams can happen.