Offense rules the day for the Cleveland Browns coaching staff and they seem ready to kick things up a notch. With that in mind, could they make a big off-season splash by taking receiver Mike Wallace away from the Pittsburgh Steelers?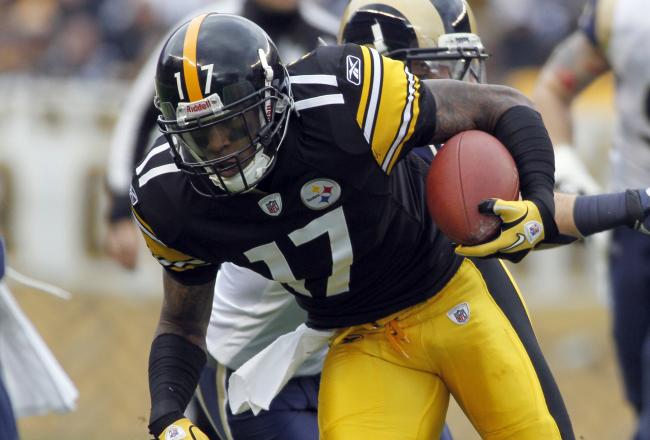 Rob Chudzinski ready to push Brandon Weeden to the next level
Anyone with an ear to the ground across the NFL landscape probably heard the titanic shift when almost every team searching for a new coach went with a hot offensive mind. Cleveland was no different, tabbing Carolina Panthers offensive coordinator Rob Chudzinski to take the helm and groom quarterback Brandon Weeden. Chudzinski did the same with Cam Newton in Carolina and given enough leeway by the new Browns front office he can do it again. The key becomes where must he focus. By all accounts the team has a solid offensive line spearheaded by Pro Bowl left tackle Joe Thomas and a good running back in Trent Richardson. The real project for him is the Browns receivers. Aside from a few nice games they struggled all year to help Weeden score points. Clearly the team must think about upgrading and the 2013 off-season should offer some great chances.
Kevin Colbert mum on the future of Wallace on the team
Among the big names expected to affect the market is speedy receiver Mike Wallace. After a rough season with the Pittsburgh Steelers, it's not clear if the team has him in their future plans given they ended the year 8-8. GM Kevin Colbert made that clear when he said that kind of finish means the Steelers "don't really have any franchise players." That means the franchise tag may have come off the table as far as Wallace goes. The Steelers need to think about reloading their older roster with some young talent. Saving money by letting Wallace go is one way to do that. Cleveland knows first hand what the Pro Bowler can do in the right system. Chudzinski already brought the career of Steve Smith back to life in Carolina. Wallace is both faster and younger than Smith was. Weeden and the offense can only benefit from having him on the field.
Rob Chudzinski built a reputation for big plays in Carolina. What better way to start off his Cleveland Browns career than swiping a Pro Bowl receiver in Mike Wallace from the division rival Pittsburgh Steelers? There aren't many.
Photo Credit: Justin K. Aller