The latest in crime news is that Delaware State Police Museum just became the place where an unidentified murdered male victim can finally get some justice. At least it is hoped that the dead man's sculptured face on display will make it happen based upon a Delaware Online story published Saturday.
The story behind the murdered man being found is interesting. It turns out that a Baltimore motorist pulled over on the side of a road off Marsh Road, near I-95 on Sept. 13, 1993 to check his map when a really foul odor got his attention. Getting a whiff of a dead body is enough to get anyone's attention, eh? The discovery of the murdered remains of the unidentified male never turned up any fingerprints in local, state or federal databases, however, and missing person reports were devoid of anyone fitting the man's description too.
So police did the only thing they could: had an artist render as close an image of what the man looked like as possible. And for 20 years they have wondered who is the John Doe that never got justice for his murder. And one of them in particular wants to see the man's family get closure and the victim get justice. And he needs the public's help to make it happen. So check out the photo below and see if you recognize the deceased man, won't you?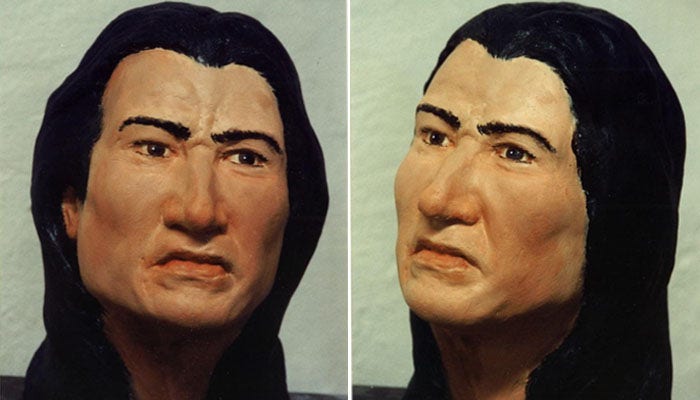 The retired state trooper, John R. Alstadt Jr., who also happens to be the curator of the museum that houses the forensic sculpture of the deceased man's face, says that "maybe someday, someone will walk in here and go, 'I know who that is,' or 'That's my uncle.'"
And that's where the public comes in, as Alstadt needs for those who see the image to make contact with him or the museum if the face is that of someone they know. The man who was killed was approximately 20 to 35 years old at the time of the crime news, but now he would be 40 to 55 years of age, if he had lived. He was believed to have been 5-foot, 10-inches in height and weighing between 120 to 140 pounds at the time of his death too.
One definitive mark that might make anyone who knew him sit up and take notice is that the tip of his right ring finger had been surgically amputated, which would give authorities a better chance for a lead now, with the advance in record keeping by surgeons. And the fact that the left pinky finger had an exceptionally long nail could prove the man had a history of drug use police said, or had some Asian royalty ancestry. Drug use could explain his being murdered and dumped off a road like he was, of course.
Police are unsure if he was Asian, American Indian or Eskimo, and the autopsy revealed that the man was a heavy smoker, but he had perfect teeth and wore size 28 tan Bugle Boy pants and a Ralph Lauren t-shirt. Doesn't sound like a drug user does it?
(Delaware State Police face sculpture photo credit: FoxNews.com)