Jodi Arias drama: The psychologist who examined and diagnosed the accused murderess with PTSD has been accused of having feelings for his client — which would negate his credibility as a witness. It's a display that's very reminiscent of the Casey Anthony trial in which Jose Baez was accused of having sexual relations with Tot Mom — only it actually took place in the courtroom and not between those watching the trial.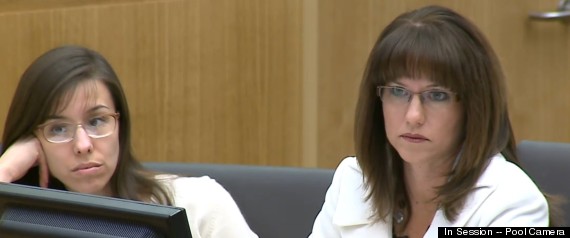 It's also being reported that Jodi has "mommy issues," and had a troubled relationship with her mom. She's even been accused of hitting her mother "for no reason." Her shrink, the one that is accused of having feelings for her, told the court that she had a lot of anger for her mother and claimed that she was treated "like crap."
All of this will undoubtedly be dramatized beautifully in the developing Lifetime movie, which will probably rake in as many viewers as the Casey Anthony movie that aired on the same network. This cases is becoming a joke and the dog and pony show it has become is only going to lead to an eventual acquittal. Maybe that's too bleak of an outlook, but the way the prosecution is acting is just embarrassing.
As for believing whether or not Jodi Arias and her psychologist have an inappropriate relationship: if it's true, then he's not a credible witness. If he interviewed her at all in jail there should be surveillance footage. It should be proved quickly whether or not he crossed any boundaries. If he did, would it be at all possible that Jodi seduced him? Remember in past testimony and other details about this case she is accused of being a very highly-sexed individual who uses seduction to get what she wants.
Photo: Huffington Post
~*~ Crime analyst and profiler Chelsea Hoffman is the author of "The Sin City Strangler" & many other works. Contact her privately via the "Case to Case" blog or @TheRealChelseaH on Twitter.~*~