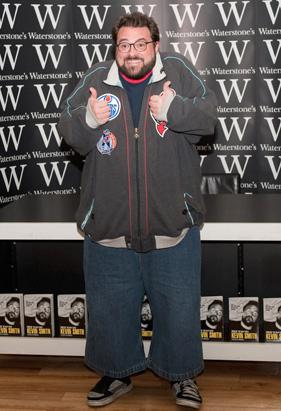 Looks like Kevin needs to join the list of Celebrity Fit Club Boot Camp! Over the weekend director Kevin Smith was kicked off Southwest Airlines plane because according to th eflight attendant he was a safety hazzard. Smith was trying to catch a flight home to Burbank and was told he was too fat to fly.
Smith expressed his outrage on his twittter account.
"Dear southwest-Air, I know I'm fat but was Captain Leysath really justified in throwing me off a flight for which I was already seated?" He deemed me a safety risk, Again: I'm way fat and hellip, but I'm not there yet."
He went on by saying,
"I broke no regulation, offered no safety risk, what was i gonna roll on a fellow passenger."
Smith is known for directing movies like Clerks and Mallrats and feels he was wrongly ejected from the flight. Southwest gave him a $100 voucher but Smith still wasn't satisfied. Southwest airlines responded to Smith via Twitter with an official apology.
"Our pilots are responsible for the safety and comfort of all customers on the aircraft and therefore, we made the determination that Mr. Smith needed more than one seat to complete the flight."
Smith says he always buy two tickets when flying for comfort and because he has the money not because he is fat. On Saturday he had two tickets but lost the second ticket because he was on stand by.