There is a huge disaster in Indiana, from what appears to be a natural gas explosion. Witnesses in Indianapolis say they saw metal debris falling from the sky. What is known is that so far, six homes have been destroyed, two from explosion and four from fire. The explosion happened about 11:10 p.m. in the 8400 block of Fieldfare Way, near Sherman Drive between County Line Road and Stop 11 Road. It was heard from miles away.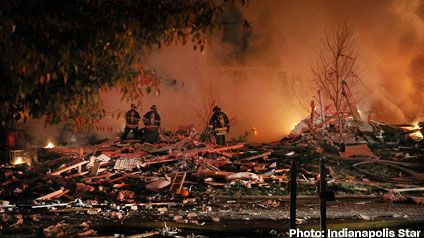 One witness says his home "teeter-tottered" on its foundation. Bonnie Hensley, Indianapolis fire public information, told CNN that there's "Extensive damage for over a block each way from the exploded houses." The Department of Homeland Security is on the scene. According to Indy Fire Department scanner chatter, there are two homes that are flattened, windows in homes as far as several blocks away were blown out. They believe there are still residents trapped in one or more of the residences. Neighbors immediately rushed to the aid of victims. 200 homes are now being evacuated to Mary Bryan Elementary School. IndyGo buses are helping to transport evacuees.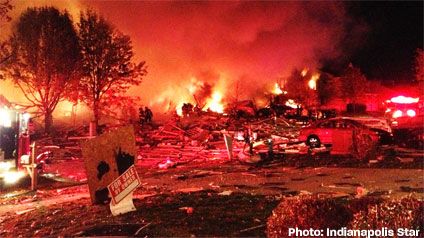 Witness and citizen rescuer Kirk McDonald said, "It was a loud explosion. The whole house shook, things falling off the wall. I could see insulation falling out of the sky. The house that blew up, there was nothing left of it but sticks." When he heard screaming from a home, a man, woman, and two children, he ran to help. "I went inside to help the people out. As we got her out, the whole house was catching fire," McDonald said. "We had to dig off two-by-fours, siding." Responders are asking for people to bring in food, baby diapers, wipes, and formula to local fire departments. Red Cross is en route to the disaster.
*The latest word is that they have confirmed it was not a plane crash.
*Arson investigators are now in charge of the scene.

*Power company was just ordered to cut power to the entire subdivision.

For more details on the disaster in Indiana, along with a live feed of the scene from WISHTV, click here.
Users on Twitter are speculating why DHS was on scene so fast; some claiming this was a drone strike or other conspiracy. Hashtag #indyboom and #indyexplosion for info.
Photo credit: Indianapolis Star
© Margie Wilson-Mars 2012