Nobody likes hearing their name mentioned in the press for the wrong reasons. Yet some, like professional athletes, almost get a quiet boost when more people say they can't. Are men such as Tim Tebow and Kobe Bryant cut from that cloth?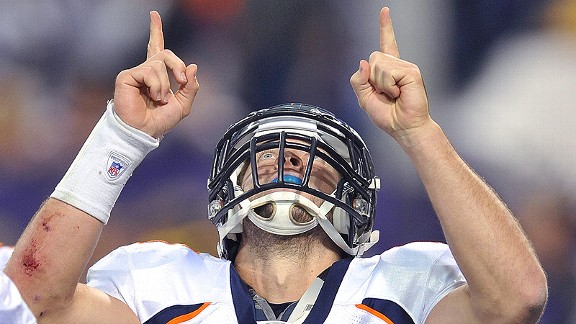 Kobe battles divorce to Vanessa Bryant while Tebow handles questions of ability
A person might think that after winning five championships, the Los Angeles Lakers and their leader earned the unquestioned crown of best team in L.A. Apparently not, since several fans have jumped ship to support the upstart Los Angeles Clippers and their "Lob City" roster featuring Chris Paul and Blake Griffin. It's not the news Kobe wants to hear, especially with his ongoing divorce with wife Vanessa Bryant. That's why he overcame all the doubts and questions circulating around the Lakers and scored half his points in the 4th quarter to knock off the Clippers in their recent rematch. This isn't the first time Kobe Bryant has stepped out of the ashes of an apparent catastrophe. Years ago, following his historic three-peat championship run, Kobe almost lost his career and his freedom when he got charged with rape. Somehow he beat the charges and not only kept his job but took his play to new heights, winning two more titles and a myriad of awards along the way.
Tim Tebow could learn a few things from basketball's real king. In fact he may have already. No quarterback perhaps since John Elway displayed a greater will to win late in games in 2011 than Tebow. No less than five times he brought the Denver Broncos back from imminent defeat and capped it all off with a historic playoff win against the Pittsburgh Steelers. What makes it so amazing is the doubts and naysayers he went through to get there. Even now many experts question whether Tebow will keep his job next season, much less play better. His numbers don't jump out at people, which explain why many don't like him. But there is one stat that proves Tebow thrives on controversy and doubt just like Bryant. Before he took over, the Broncos were 1-4. After he got the start, they went 7-4. Basically Tebow guided a team destined for a top draft pick to a division title and a playoff win.
Reggie Bush and Kris Humphries show proof with Kim Kardashian mess too
Controversy isn't just limited to the biggest names, either. NFL running back Reggie Bush and NBA big man Kris Humphries know a thing or two about it, thanks to their now severed relations with reality TV queen Kim Kardashian. Prior dating and/or marrying her, Bush and Humphries were relative nobodies in terms of their play. Bush made some highlights while helping New Orléans capture its first Super Bowl. Humphries quietly built on his journeyman reputation in New Jersey. After the Kardashian gale blew through, both men suddenly found their games on another level. Bush ran for over 1,000 yards for the first time last year, while Humphries boasts career bests in every statistical category despite playing for a dismal team. Coincidence?
A favorite line of fight promoters is controversy creates cash. Some might also say it creates champions. Kobe Bryant juggled rape allegations and now divorce with Vanessa Bryant. Tim Tebow keeps ignoring an increasingly venomous group of critics. Even Reggie Bush and Kris Humphries continue making Kim Kardashian look like a good luck charm. Controversy can do many things, but no one should ever say they're all bad things.