Duck Dynasty star Si (Silas) Robertson has revealed that his only son has Asperger's Syndrome (AS), a condition on the Autism Spectrum, sometimes called 'High-Functioning Autism'. The surprising disclosure is in his new bestseller, Si-cology 1: Tales and Wisdom from Duck Dynasty's Favorite Uncle. Si and wife Christine had Scott in 1977. He was two months premature and suffered a brain injury due to a liver problem. "Scott was suicidal from the time he was about five years old. His behavior was really erratic as a child. When Scott would get tired, he would throw his arms out and fall backward." It had to be such an awful time for the family having no idea why their son was having problems.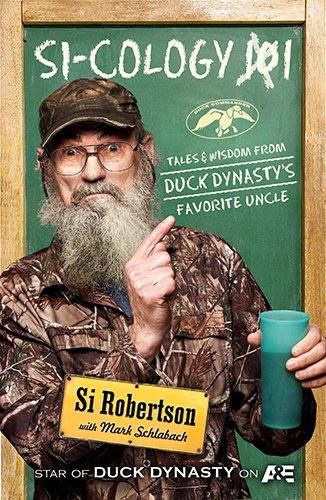 The timing of Si sharing such personal information about his son couldn't be better. Autism has increased so dramatically in the past 20+ years that it has scientists, doctors and parents perplexed. Wikipedia says people with Asperger's "lacked nonverbal communication skills, demonstrated limited empathy with their peers, and were physically clumsy". While true, it's a very limited part of the entry and explanation of symptoms. It's common for people with AS to have anxiety and depression issues as well. Thankfully, it's much easier to get a diagnoses now. Often times, children are misdiagnosed several times first.
Silas wrote that when Scott was 11 years old, his mother caught him attempting to jump from a second story window. He was finally properly diagnosed and now lives a healthy and happy life. The family credits their faith in God for getting them through rough patches. In the book, Si shares a letter from Scott, "You are and always have been the rock this family holds to. Your faith in God as I grew up showed me that we might not always have the answers and that was okay, because God was in charge and would always take care of us. I love you, Dad, and will consider myself lucky if I grow up to be half the man you are." It sounds like Scott knows how blessed he is to have such a caring family. Scott has not appeared on the show.
For information on Asperger's Syndrome, check out Autism-Society.
Photo credit: Facebook