Did you know pigs can have orgasms that last 30 minutes? Weird fact brought to you by Sherlock.
Elementary opens on a murder. A man closes his eyes as a gun is put to his head.
Sherlock (Jonny Lee Miller) has a cold. Watson (Lucy Liu) wants to take his temperature, but he refuses, saying it's gone down a degree since the last time. She points out that means it's 101. Sherlock gets a text from Bell (Jon Michael Hill).
The dead man was shot in both eyes. Sherlock walks around, looks at the body and tells Bell that he's a professor of Eastern Studies. Probably Thai, from the woven bracelet on his wrist. Bell says he'll call local universities. Sherlock tells him to call Garrison from the blue on his tie. In fact, he looks up the university faculty and tells him that the dead man is Trent Annunzio (Richard Topol).
They head over to inform Jun (Kristy Wu) that her husband is dead. She can't imagine anyone wanting to kill him. She met him in Thailand and he proposed and they had a beautiful daughter together. Watson gets a call from Rikers and tells Sherlock that she has to go. He asks if the caller was an old client. She says yes.
Liam (Adam Rothenberg) has been arrested for a hit and run. He claims he didn't do it. At least, he doesn't remember doing it. He asks for help. Watson tells him she can't.
Sherlock and Bell go to Garrison and meet Annunzio's teaching assistant Brendan O'Brien (Cameron Scoggins). He takes them to Annunzio's office. O'Brien leaves them. Sherlock looks across the hall to a bigger and better lit office. He tells Bell that O'Brien was at a Chinese gambling parlor. Bell doesn't want to ask, but does. How does he know? The offices. Annunzio chose office 13 over the nicer 14 because 14 is bad luck in Chinese and 13 is good luck, and he was wearing red boxers for luck. Bell agrees after he pulls out three mahjong tiles. He says they're from three different parlors.
Watson, Sherlock and Bell head out to the parlors and at one of them, Sherlock questions the elderly man (Randall Duk Kim). He pretends not to understand, but Sherlock says that with as nice as his shoes are, he must be the owner and would have to speak English to deal with everything. He asks about the bleach spot. The man says a customer was ill. Sherlock points to the patches on the wall, and asks to see the video. The owner denies that there is any, but Sherlock points to the smoke detector and says he knows it's a surveillance camera from the catalogs he gets.
The video shows a masked man robbing the parlor, and then killing Annunzio. Sherlock then asks for the video from the hallway showing the man's face. Raoul Ramirez (Lord Jamar) tells them that he was hired to kill Annunzio, and shows them the text. It was sent from a burner cell. Watson brings Sherlock a cup of Chinese herbal tea. It's what her mom always made her when she had a cold. He dismisses the efficacy of the tea, but drinks it anyway.
They look further into Annunzio and find that O'Brien couldn't have been too fond of him since he wrote O'Brien a terrible recommendation which cost him a job. Gregson (Aidan Quinn) comes along as they question him at his apartment and while searching it, they find the burner cell.
Sherlock is unconvinced that O'Brien is guilty. He asks Watson to make him another cup of Chinese herbal tea. He admits it made him feel better. Watson from saying I told you so! Sherlock continues looking at the evidence and realizes from O'Brien's music downloads that he and Jun were having an affair.
He and Bell go to confront Jun. She refuses to believe O'Brien had anything to do with her husband's death. She shows them a Chinese torture manual that explains how to beat a person without leaving marks. She claims Annunzio beat her and forced her to do "sex things" to him. All of it on tape. Sherlock starts to look unsure. He asks her why they should believe her, she tells them that Annunzio didn't marry her, and used her immigration status to keep her silent. She tries to show them the videos on his computer, but the files are empty. Bell brings Jun in.
Watson notices from a photo that everyone's eyes were red from the flash except Annunzio's, probably a melanoma preventing his corneas from reflecting. Sherlock thinks Annunzio hired Ramirez to punish both of them because he was dying of a painful cancer anyway. But this is just a theory and Gregson can't act on it.
Watson finds Sherlock in the bathroom with all the evidence. He thought at change of scenery might jog his brain. He thinks he's wrong about Jun and feels terrible about having put her in the path of ICE, and potentially separating mother and child. Watson notices that O'Brien and Ramirez were nearly neighbors and wonders how you find a contract killer. Sherlock realizes that you might find one by looking up registered sex offenders. He puts in O'Brien's address and Ramirez shows up, but Watson points out someone was closer.
Closkey is a convicted electronic peeping tom. He was suspicious of the text, and demanded more money and set up a camera. It shows Annunzio dropping off the money. O'Brien is released and they tell him that if he and Jun marry, ICE will probably not deport her. He hugs her and says of course.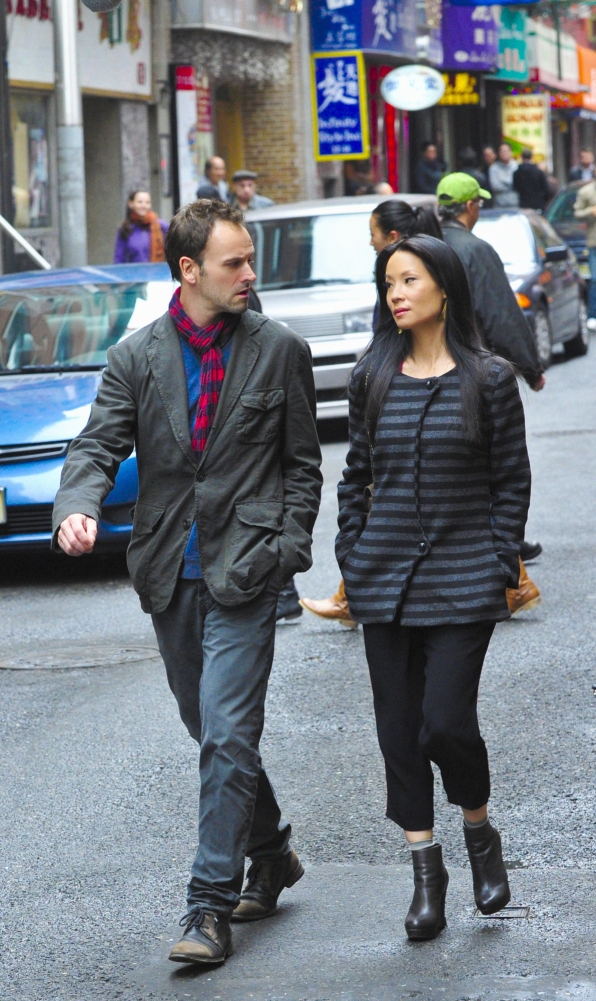 Watson helps out Liam with Sherlock's help. She tells Sherlock that Liam is an ex. Liam asks for help and she arranges a spot for him at a clinic. The episode ends with them waiting on Liam at the clinic. Their friendship is really developing nicely.
Photo credit: Elementary