An English teacher at North Canton Hoover High School has been ratted out by her students. Did she cheat? Have sex with a student? Proposition another teacher? Nope, she wrote an erotic book. Oh, the nerve! The result of her awful behavior has already been a five day suspension, and prior to that, a three week long "administrative leave". A teachers union rep said that even though he supports her if no laws were broken (how generous), he was "very disappointed" she wrote the book! And get this, she used a pseudonym, so what's the issue? Carol Ann Eastman became 'Deena Bright' on the cover of 'Schooled'.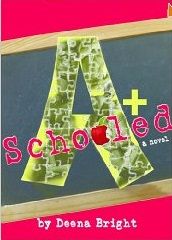 Apparently, Someone spilled the beans about the book. Probably someone she told, after all, she has a little bragging room. 'Schooled' has a four-star rating on Amazon and several of the ratings are five-star. It only has four one-star reviews, one by a former student of Hoover High who seems a little…hmm, angry! It's currently only available as a digital book (for Kindle, Nook, etc.) and it looks like it left room for a sequel. The description claims the book is "Chelsea Handler MEETS Fifty Shades of Grey" and the comments reflect that.
So, what's the big problem for the parents and staff at Hoover? She was officially punished for using her school computer for "social networking of a personal nature." The union president who is disappointed in Eastman, George Baran, said that he thought the district tried to get her to resign but that Eastman chose to fight instead. He added that he has "spent his life trying to show that teachers are special and have integrity. 'Something like this throws a wrench into that perception.'" Writing an erotic novel means she has no integrity? What a jerk!
The book is about a school teacher (naturally) that gets even with her cheating husband by having affairs with two former students. That is the part that supposedly ticks off Eastman's detractors. One woman said, "That's inappropriate. I don't think I'd write about that whether it was fiction or truth." Eastman said that she asked the district for permission to write the book and they refused. She got the idea after a friend of hers wrote an erotic fiction book that reached the top of the charts.
In her book, she has a funny "special note" in her acknowledgments. It reads, in part: "Dear My School District: I love my teaching job. I love raising my kids here, being a part of this close-knit and outstanding community. I am proud to be here, honored and humbled to be a part of this district. Please don't fire me! I've never slept with a student, not even remotely close. I love my students: they're my kids, nothing more."
Image credit: Amazon
© Margie Wilson-Mars 2012