Evelyn Lozada has been very quiet on her social media accounts when it comes to discussing Basketball Wives, which could be due to the lawsuit that her former best friend Jennifer Williams has filed against Evelyn's assistant Nia Crooks. It sounds like she is being forced to stay silent. But Evelyn did attend the reunion filming, which took place this past weekend. She joined stars Royce Reed, Kesha Nichols, Shaunie O'Neal and Suzie Ketcham as they got together to discuss the season's past events. There is no word on whether Jennifer attended, although Vibe Vixen claims that she did attend. There have been no photographed evidence.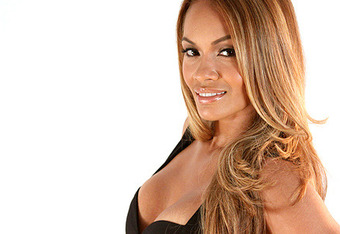 Although fans have been very vocal about firing Evelyn, she did step out in style to the reunion. She could be signing on for the fifth season of the show, but she probably wouldn't be wanting to battle it out with Jennifer Williams on Basketball Wives.
On the reunion, Evelyn Lozada sported a new look, probably to get a refreshing start on her life with Chad and to move on from the drama. Through her Instagram, Evelyn shared a picture of her new look, which features bangs and toned legs. She also wrote a black crop top and a teal maxi skirt that had a very high slit. It looks like she is toning down her look, going for simple and sexy, compared to other season reunions. She finished off her look with studded Christian Louboutin shoes and large hoop earrings.
Will you be watching the reunion finale, which will air once the season is over?