A CBS poll has yielded some surprising results. 51 percent of Americans believe in making gay marriage legal. Washington, Maine and Maryland recently approved measures to legalize same-sex marriage. That makes it legal in nine states plus the District of Columbia. Not surprising is that most of the support, 72 percent, comes from young Americans ages 18-29. As age increases, support decreases dramatically. Only one-third of seniors 65 and older approve. In 2011, a Gallup poll showed that 53 percent of Americans agreed with legalization.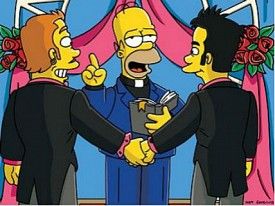 Passing same-sex marriage laws will only help the country, especially children. In many counties/states, gay couples can't adopt children. There is no reason why so many children have to stay in a corrupt and sometimes abusive foster care system when safe and loving homes are available! Taking away the stigma of homosexuality could also help children already born to gay parents by decreasing bullying. Marriage benefits for gay couples also benefit children by increasing the amount of health care they may be able to receive. The result of granting these rights is that people will no longer have legal recourse to discriminate
Gay marriage doesn't hurt society and obviously, the American public is finally starting to see that. Only 40 percent of those polled did not think it should be legal. People certainly have every right to disagree with it, although without suffering from repercussions similar to what the COO of Chick-fil-A faced. However, trying to force those views on such a large group of people is unfair and discriminatory. The Supreme Court is currently deciding whether or not to consider reviewing California's Proposition 8 and the federal Defense of Marriage Act. If they do, they will be hard-pressed to find a reason to deny the wishes of the majority of American citizens.
Photo credit: Reason
© Margie Wilson-Mars 2012