A Rhode Island bill to allow civil union between same-sex couples is about to become law, but some gay rights activists are unhappy. The Senate approved the bill Wednesday by a 21 to 16 vote. All that's left is for Governor Lincoln Chafee add his signature and make history for the state.
The Rhode Island governor has said that he will most likely sign the bill, according to NPR. But in a surprising twist, a handful of advocacy groups supporting gay marriage have asked Chafee not to pass the bill.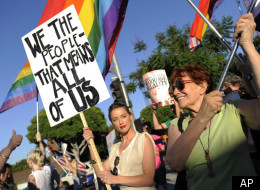 While the request may seem strange, it turns out that the bill includes wording that actually limits the rights of same-sex married couples. While the new measure legalizes civil unions, and will confer all the rights of marriage now available to heterosexual couples, a provision allows religious institutions to ignore the law, legally.
This means that any religiously based group or service does not have to honor a civil union between a gay couple. Including hospitals and school, many of which are affiliated with a religious organization. While in some ways, the measure does seem as if its two steps forward and one back, the news will still likely be very welcome among many in the gay community in Rhode Island.
Although more work remains in the struggle for equal rights, this is at least a significant change for some. As long as they don't get sick and need to go to a hospital, send their children to private school, or attend a religious college or university.
Photo source: Huffington Post