Well this comes as quite a surprise, considering Glenn Beck is one of the biggest loudmouths on radio and television—batting for the "Tea Party" geniuses and other extreme conservative types. It seems that unlike the great amount of his viewers/listeners, Glenn Beck isn't entirely insane. In fact, he thinks it's insane for anyone to question Obama's citizenship. He's no birther, and that is both a surprise and a relief.
It does say a lot about Beck's character. Although he's over-the-top and at times, borderline anti-semitic and rabidly against anything remotely progressive, he is no dummy and isn't going to entertain the birther's crazy ideas about Obama being born in Kenya. Glenn Beck said:
You have a real opportunity to talk about American exceptionalism and what made us exceptional. You have a real opportunity to talk about taxes and spending. Instead, youÂ're gonna waste time on the birth certificate? I understand. I personally think heÂ's a citizen. I think he was born here. I donÂ't think he was a Manchurian Candidate from birth. But, if you want to, great. YouÂ're out of your mind if you think that is a winning argument for the next election.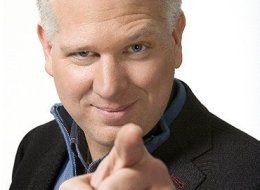 It's extremely difficult to applaud anyone like Glenn Beck, but in times like these, he deserves a standing ovation.
 
(Photo source: The Huffington Post)