Margaret Thatcher, the first female British Prime Minister, has died at age 87. Although the much loved political icon just recently passed away; the haters on Twitter reveal their true stripes.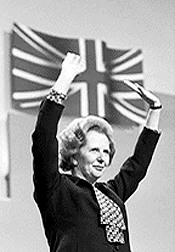 It did not take long for the tasteless Thatcher tweets to emerge. One particularly articulate tweet declares, "I hope she burns hell the crow," while another reads, "I'd say RIP Maggie but it wouldn't be true. If Heaven exists that old witch won't be there…" Ah, the civility.
A disgusting hashtag even reared it's ugly head: #DingDongTheWickedWitchIsDead Interestingly, (and awesomely) the offensive hashtag seems to have been taken over by people denouncing it, which is heartening.
Twitchy highlighted some tweets that were particularly disgusting, but it is hard to keep up, as they are in abundance.
It is amazing that even high-profile tweeters like Joseph Barton, prominent English footballer who has over two million followers on Twitter, or Vice Chairwoman of the Democratic National Committee and political correspondent Donna Brazile, cannot even hold the vitriol at bay on the day of Margaret Thatcher's passing.
Here are just some of the hateful tweets:
I'd say RIP Maggie but it wouldn't be true. If Heaven exists that old witch won't be there…

— Joseph Barton (@Joey7Barton) April 8, 2013
Okay, what did the #ironlady do to advance Great Britain and the world? Did she leave lasting footprints for women in politics? #justsayin

— Donna Brazile (@donnabrazile) April 8, 2013
I hope she burns hell the crow. #thatcher

— DIGITAL SALESGUY (@TDSHLondon) April 8, 2013
So Maggie Thatcher has died, I wonder how many street parties are going on in Featherstone and Barnsley today?

— Jack Hegarty (@Heggy1991) April 8, 2013
#RIP #Thatcher #TheWitchIsDead youtube.com/watch?v=PHQLQ1Â…

— Raamiya (@Raamiya) April 8, 2013
Obama on Thatcher is completely tone deaf. Freedom & liberty? She supported white minority rule and a murderous dictator. #clueless

— Sean O'Neil (@soneil_ldn) April 8, 2013
Photo Source: margaretthatcher