Herman Cain is currently blasting the darned "liberal media" for what he's calling character assassination, but doesn't it just seem like he's done a good job of assassinating his own character? He's currently reasserting his future, so maybe he should just hang it up, go home and have a pizza party in remembrance of his (almost) political career.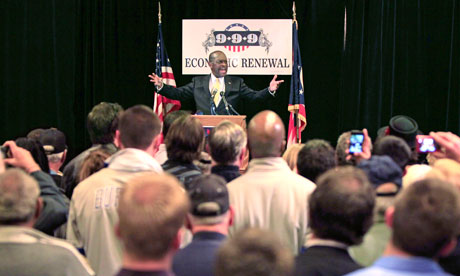 Herman Cain addressed a crowd in Ohio earlier, and spoke of the recent allegations that he's had a 13-year affair outside of his marriage.
"They have been trying to do a character assassination on me. They are attacking my character, my reputation and my name in order to try and bring me down."
He also shared the sentiment that he doesn't believe Americans will let him be taken down. Well, he apparently has some delusions of grandeur since history has prominently shown that Americans (in general) do not want an adulterous or morally corrupt president. Remember Bill Clinton? The guy was a great leader, but his lascivious personal life came to light and public opinion of him crashed. He was impeached.
Voting for Herman Cain would be like voting for the skeezy flasher on a subway
Picture this: You're sitting on a crowded subway and a man sits beside you. After some friendly conversation, the man forces his hand up your skirt to cop-a-feel. Is that offensive? Would you want that person to be the next leader of the free world? You see, these are the kinds of things that Herman Cain has been accused of by more than a few women now, and those accusations came a bit before this alleged mistress of him stepped forward.
Look, one or two rumors about someone is fine and dandy and easy to ignore, but when Herman Cain is accused of dipping his wick in more jars than Slick Willy Clinton himself, there's a problem.
In fact, he just admitted that he still hasn't even talked to his wife about these accusations. Well, isn't that kind of a clue into the lack of relationship they must have? You would figure a husband and wife would have discussed such serious accusations as a 13-year affair. You know, a lack of communication and intimacy often leads people to seek these things outside of the relationship. Maybe Herman Cain did have a 13-year fling, if his current communication distance with his wife is indicative of anything.
—~~*~~—
Chelsea Hoffman is the author of the controversial and sexually-graphic novel, "Ladykiller," and three others. Subscribe and contact her via ChelseaHoffman.Com! You can also circle her on Google+
—~~*~~—