One never wants to say something is inevitable, but when two teams seem on the verge of resorting to desperate midseason moves, it's hard not to. Lamar Odom and Kris Humphries must know this, sitting at the apex of a possible trade storm.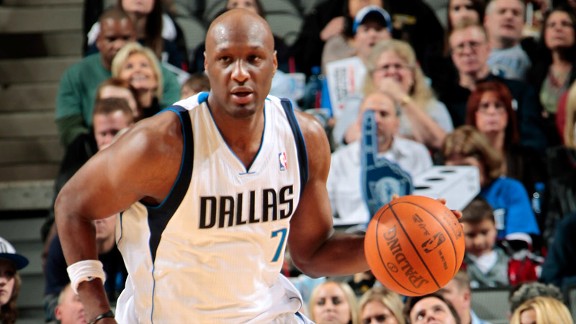 Odom and Khloe Kardashian watched by Dallas Mavericks owner Mark Cuban
The top bench player from a year ago left the Los Angeles Lakers in a trade already this season, picked up by the Dallas Mavericks in hopes that his veteran presence could curb the loss of talent to free agency. Up to this point that hasn't happened. Aside from a few solid outings, Odom hasn't lived up to his championship-caliber billing and now the Mavericks sit at a precarious spot in the Western Conference. What makes things tougher on the 33-year-old is the man who owns the team. Mark Cuban has remained silent since the NBA Finals last season, and most know his reputation for making bold moves when he thinks his team isn't performing. Worst of all, the Mavericks have a great deal of cap space, making a trade all the more likely in the near future. The question then becomes have Lamar Odom and wife Khloe Kardashian made a good enough impression to stay? A complete glance at the stats and the wins has to lean towards no.
Humphries isn't immune to Dwight Howard talk thanks to Kim Kardashian
Dallas isn't the only team with a Kardashian connection on the bubble. The New Jersey Nets gave Kris Humphries a new contract worth $8 million and in fairness the young man has earned that money with career highs in both points and rebounds. The biggest issue facing him isn't his play but his backgrounds and the struggles of his team. New Jersey boasts one of the worst records in the NBA's Eastern Conference and now their best player, Deron Williams, has made it clear that if the team doesn't at least try obtaining star center Dwight Howard, he will walk in free agency next season. This puts Humphries in a bad spot because he is young, improving and carrying undesired baggage named Kim Kardashian. His divorce to her has left New Jersey in the middle of an ugly tabloid barrage. Is it that long a stretch to think they'd willingly part company with Humphries if getting Howard and dumping the Kardashian mess were possible?
The NBA and most other sports organizations can seem very cold to hard-working players like Lamar Odom and Kris Humphries. Khloe Kardashian and Kim Kardashian aren't the main problems, but when added to a lack of winning and a rare available talent like Dwight Howard, hard workers become expendable. Whether the Dallas Mavericks and Mark Cuban or the New Jersey Nets make that true remains a topic to watch for.