Looks like something Down Under is agreeing with Hugh Hefner's 'Runaway Bride', Crystal Harris! The 26-year-old Miss December 2009 is in Australia doing some promotional work and finishing up a line of swimwear and dresses for V'eve. Harris is best known for being the former love of Playboy founder, Hef. Just a few days before their wedding, Harris left Hefner and the Playboy Mansion. That certainly hasn't slowed her down. She looks better than ever and she seems happier than ever, too!
In an interview with Hollywood Treatment, Harris was joined by her close friend, singer and Playboy model, Melissa Dawn Taylor. Taylor lived with Harris at the Playboy Mansion and co-stared with Harris and Hefner on the popular E! reality show, 'The Girl's Next Door'. The girl's mentioned that they are both still close with Mr. Hefner, not surprising since he's known for staying close to friends and exes. Both still do promotional work for Playboy and Taylor periodically hosts and sings at events (Party for a Purpose) held at the Mansion.
Harris was excited talking to Hollywood Treatment host, Ali Daher, about her desire to be on the Aussie version of 'Dancing With The Stars'. She said she watches the popular show in the States and says, 'It would be even more amazing to do it in another country, and down here, everyone is so nice and I'd love it,' she said, 'There's a lot of support down here for 'The Girl's Next Door' and there's a lot of Playboy love down here.' With her cheerful personality, she'd be a great fit for the dancing show. She might just get her wish! After the interview, DWTS Australia sent her a tweet asking if she was still in the country! Stay tuned!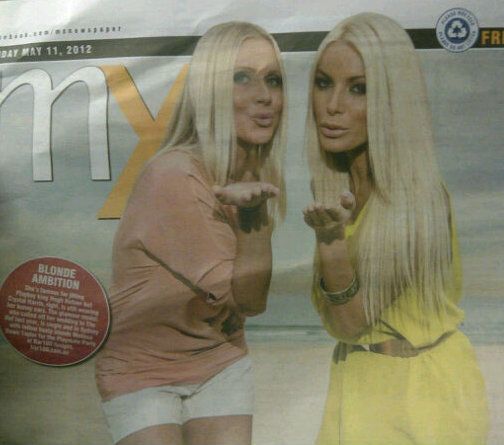 Last week, the girl's shot the cover of MX at world-famous Bondi Beach before making an appearance at Bar100 and hanging out with popular Australian Playboy model, Sheridyn Fisher. As for the future of these beautiful, blonde Playboy models, Crystal Harris has started a lingerie line called 'Ever After' that will launch this Summer and she has lots of DJ work coming up, including an appearance in Vegas May 26th. Melissa Dawn Taylor is working on a single due out in August. They will be in Australia until the 21st. Hugh Hefner should be proud!
Photo: Twitter
© Margie Wilson-Mars 2012