'Joe the Plumber', real name Joe Wurzelbacher, became famous after then candidate Obama told him, "…when you spread the wealth around, it's good for everybody." Now he's stuck dealing with a fanatic group of leftists who apparently can't read! Joe copied an article from TheBlackSphere.net, written by Kevin Jackson, called "America needs a white, Republican president" and added it to his own website. Some media outlets like Daily Mail are writing deceptive articles making it seem as if the words are Joe's very own! And, because Joe is a white man, they are claiming he's a racist!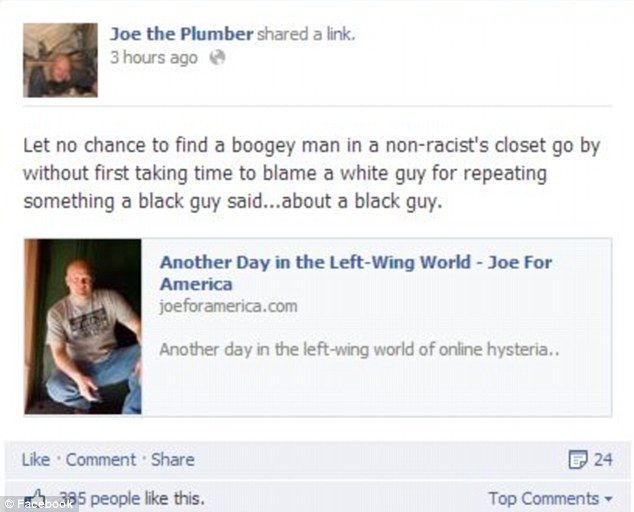 Daily Mail wrote, "In an article posted to his website on Thursday, Joe Wurzelbacher assured readers that wanting a 'white Republican president doesn't make you a racist, it just makes you American.'" They go on to repeat comments made by people obviously confused about the post. Wurzelbacher was attacked for being a racist repeatedly before anyone picked up the fact that he didn't even write it! Not really surprising, conservatives are constantly being called racists for simply disagreeing with President Obama's policies. The comments on the article demonstrate the vitriol of the left towards conservatives. It's becoming increasingly difficult to have a normal discussion when you are constantly having to battle untrue attacks.
Both Joe and Jackson's websites are part of conservative group, Liberty Alliance, that hosts many websites including 'Joe for America' and 'The Black Sphere'. The group also shares articles, something the commentors on the article don't seem to understand as they accuse Joe of plagiarism. The original article is a commentary on how the accusation of racism is thrown around so easily. Jackson, who is black, says, "Never has a black person been called racist, because they didn't like one of the white presidents' policies." In response to the backlash, Joe wrote on his Facebook page, "Let no chance to find a boogey man in a non-racist's closet go by without first taking time to blame a white guy for repeating something a black guy said…about a black guy."
The article is not racist. It's actually turning out to be a positive for conservatives because it's another example of the so-called 'tolerance' of the left. Whenever they dislike something from a conservative voice, they attack in a vicious manner and this is a glowing example. Joe wrote an article about the insanity on his website. In "Another Day in the Left-Wing World", he said, "Well, leave it to me, Joe "The Plumber" Wurzlebacher, to make the assist in letting the libs look stupid. I posted half of Kevin's terrific article, linked to his full story at TheBlackSphere.net and BLAM! The crazies everywhere did there thing, including our friends at The Huffington Post. Wow!" It's a good thing he has such a good sense of humor, conservatives are getting pretty sick and tired of being called racists.
Photo credit: Facebook