Fans would say the comparisons are ludicrous but the warning signs are there. After such a crazy off-season already is Johnny Manziel shaping up to become the next Ryan Leaf in the annals of the NFL world?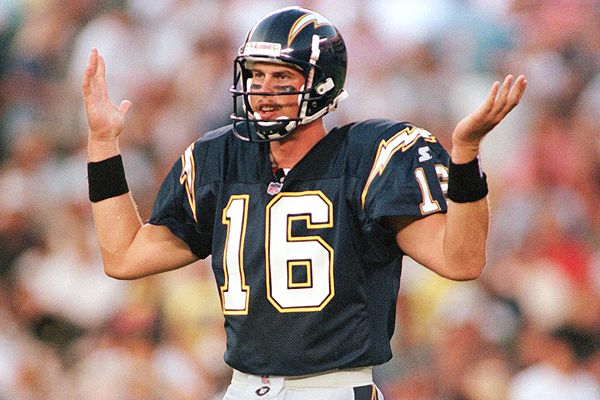 Manziel allegedly lied about actions to Peyton Manning
Somebody should tell Manziel that winning the Heisman trophy guarantees nothing in a football career. If anything it is the most flawed award in football period simply because it is highly inaccurate at determined superstars in the NFL. Yet Manziel continues to walks around as if he's already got everything figured out. Is he a kid? At 20-years old that is for sure, but like anybody else when he chose to take over as quarterback of a major college program, it came with a large degree of responsibility. Little by little it is something Manziel has shown less of. That became clear when word leaked that the reasons for him leaving the PeytonManningPassingAcademy were not due to illness, dehydration or missing a meeting because his phone was busted. In fact the growing belief is it was because Manziel was exhausted after partying at Bourbon Street in New Orleans until 4 a.m. and when confronted about it by Peyton's father Archie Manning, he lied and made up an excuse. On top of that, key camp participant Buddy Teevens became the one to show him the door. The former Tulane coach cited an inability to fulfill his obligations as the reason Manziel was booted.
Leaf and JaMarcus Russell shows what no discipline does
That kind of immaturity, and some might say idiocy, is not the norm for most high profile quarterbacks in college football. On average the majority understand the opportunity they have and learn to behave. However, once in awhile there are blips on the radar that stick out like shiny red pimples. Perhaps the two most glaring in recent memory are JaMarcus Russell and Ryan Leaf. Russell walked into a bad situation with the Oakland Raiders back in 2007 and made it worse by showing a lazy attitude that eventually got him cut. Since then he has embarked on an attempted comeback to prove he can do what it takes to succeed, but the same doesn't go for Leaf. NFL experts love to railroad the former #2 overall pick for the simple reason that he made it so easy. Despite an impressive college career culminating in a junior season that saw him average 330 yards per game, toss 33 touchdowns and get WashingtonState to its first Rose Bowl in 80 years; the red flags were there. He favored an all-nighter in Las Vegas after the draft over getting straight to work with his team. Later on he made poor excuses for his struggling play, yelled at the media and blamed teammates for his problems. He eventually retired at the age of 26, was arrested years later for burglary and substance abuse and sent to prison.
Johnny Manziel is a crazy talented quarterback and should have a bright NFL future ahead of him. Yet if his recklessness continues at such a pace, then he will inevitable take a similar plunge like Ryan Leaf did.
Photo Credit – AP