Robin Thicke has claimed in interviews that he doesn't have or want an open marriage. Maybe he's lying about an open marriage for his child's sake? So, what kind of arrangement allows for him to act as if he's single, or worse, single and misogynistic? At the very least, Thicke's actions are disrespectful to his wife. His most recent strange behavior includes the NSFW video for his summer hit, 'Blurred Lines', his disgusting performance with Miley Cyrus at the MTV Video Music Awards (VMAs) and now, the discovery of a very naughty photo!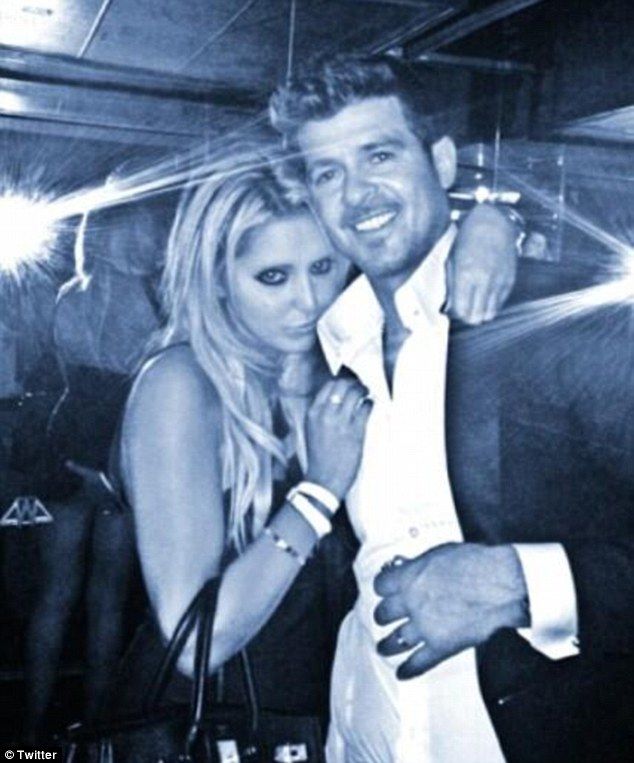 While Robin, his wife Paula and their 3-year-old son, Julian were enjoying the beach in Florida, someone decided to expose more of Robin's piggish behavior! In a photo tweeted to Paula Patton's Twitter account, a happy, wedding ring wearing Robin has his arm around a blonde who is clearly trying to look seductive. An odd expression for a woman to take while having her photo shot with someone…until you look in the mirror behind the 'couple'! Robin's hand is firmly in place on the woman's derriere, not to mention it looks like some of his fingers are elsewhere! The message with the photo reads, "Look at the reflection girl". So far, there's been no response from Patton. Maybe because she just doesn't mind!
Robin Thicke and Paula Patton have been together since he was just 16 years old. They married back in 2005. Robin is the son of actor Alan Thicke (Growing Pains) and Gloria Loring (Days of Our Lives). Loring wasn't impressed with the nasty behavior of Miley Cyrus during her duet with Robin at the VMAs saying, "I don't understand what Miley Cyrus is trying to do. I just don't understand it." Obviously, Thicke rehearsed with Cyrus. There's that open marriage thing again! Patton was perfectly fine with the mini porn show. Thicke was widely criticized for his 'Blurred Lines' video, including some calling it pro-rape. Thicke responded that it was a 'feminist movement'. Wonder what he'll call this new photo…maybe 'pro-marriage'?
Photo credit: Twitter