Yikes! Someone call the makeup artist! Jaime PresslyÂ's mug shot has been released and a lot of people are hoping it wouldnÂ't have been! Jaime usually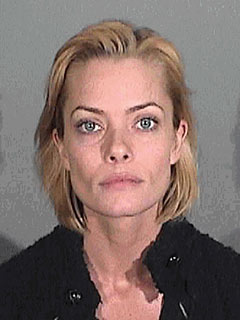 looks fabulous but her mug shot seriously makes her look like (pardon my language) a cracked-out meth addict minus the facial sores! Yeah, Pressly is definitely not looking hot at all in her mug shot.
The "My Name is Earl" actress was arrested on Jan. 5th for suspicion of DUI. Jaime was pulled over around 11 p.m. in Santa Monica. She failed a field sobriety test and was arrested on the spot. Seriously, that's how California cops do it! They tag and bag! Anyhow, Pressly wasn't in the slammer for too long because she was released on a $15,000 bail later.
What a terrible way to start off the new year! Getting arrested and having a terrible mug shot is definitely not what Jaime Pressly wanted to happen within the first few days of 2011. Oh well, hopefully, Jaime will have learned her lesson and will no longer booze and cruise!
© Evalynn J. Saeyang – Gather Inc. 2011
 
photo source: PEOPLE