Days are certainly brighter for Jessica Ahlquist, who not only won against Cranston High School West one time, but a second time this week as well. The Rhode Island school waved the proverbial white flag this week and decided to abide by the federal law and United States Constitution by removing the school prayer which rocked media headlines and spurred debates.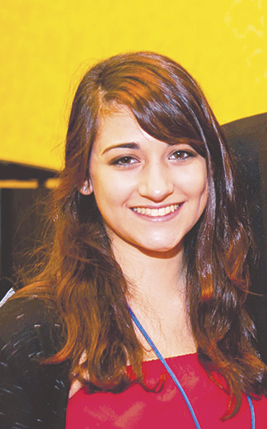 Whether you're Christian, atheist, agnostic, wiccan, pastafarian, Jewish or any other religion or path-of-faith, it shouldn't be hard to understand that the separation of church and state cements freedom and liberty for all citizens of this country. Jessica Ahlquist knew that and she's but a 16-year-old high school student. Why are so many grown adults so out-of-the-know when it comes to what's acceptable and what's not on a federal and constitutional level?
Perhaps all of the negative attention garnered by this ordeal forced the Rhode Island high school into a corner, because they were initially planning on fighting this as much as possible—which would've been a totally fruitless battle, as anyone who made it through sixth grade history class knows that much.
Atheism sure does get people riled up—especially when they're wrong!
It was a pretty rowdy night, when it was decided that an appeal won't be persisted. Chairwoman Andrea Iannazzi even had to hush the loud townspeople (who amazingly were not carrying torches and pitchforks). She had to remind them to be "mature." Good luck with that, Iannazzi!
What this all boils down to is that religious communities tend to form mob mentalities, and this whole situation is just proof of that. When Jessica Ahlquist initiated the removal of the prayer banner, she was attacked by even the adults in the community. It's simply more proof that these types of people do not truly care about what makes America what it is—the land of the free. "Freedom" only applies to god-fearing people to these people, and they're not having an easy time being taught otherwise.
Kudos must, once again, go out to teen atheist Jessica Ahlquist for her bravery and heroism. It takes a lot of guts to stand up and stick up for what is right and what is just, especially when the just thing to do is not the popular thing to do. The separation of church and state is an important aspect in the foundation of America and its constitution—and it's something that should never be taken away. It's thanks to people like Jessica that these rights are still being protected.
So to sum it all up, the banner must now be removed. It must no longer hide behind a tarp like the illegal little secret it became. Cranston High School West disobeyed the orders of the judge for several, several weeks now and it's time to proceed with the total removal of this rights-offending piece of religious symbolism. Should it be destroyed? No, because it is still a piece of this school's tradition. Perhaps a devoted alumni of this school would be willing to take it where it can be put somewhere appropriate (not a government-funded facility!).
Chelsea Hoffman is a prolific crime writer and fiction author with several works published. Her writing has been recognized by such entities as NBC Dateline and several others. Contact her directly by visiting ChelseaHoffman.Com.