Day 44 of the murder trial against Jodi Arias is over. Prosecutor Juan Martinez went to great lengths, while cross-examining domestic violence "expert" Alyce LaViolette, to show that Travis Alexander had told others, particularly a female "friend" Regan Housley, that Jodi was stalking him. While the defense claims this is not the case and their expert says she saw no evidence of stalking behavior, it has been said that Arias constantly invaded her victim's privacy by hacking into his e-mail and social media sources, even sending an anonymous e-mail to one of his girlfriends, as well as following him on dates, slashing his tires, as well as one of his girlfriends' tires, and sneaking around his property. There has even been some talk of her entering his house through the dog door, though that has not been brought up in court.
Martinez focused on one instant message conversation between Alexander and Housley, in which Travis had said he was fearful of Jodi Arias, backing up previous claims that he had told friends if anything happened to him, Jodi was likely responsible. Friends who discovered his body in his Mesa, Arizona shower stall on June 9, 2008 even told the 911 dispatcher and investigators that they should definitely look into Jodi's whereabouts. This prompts the question that, if he was afraid of her, why did he continue to have intimate relations with her?
Jodi faces the death penalty, if convicted of premeditated first-degree murder. She maintains that she did, in fact, kill her lover five days before the discovery of his body, but she did so in self defense, while he attacked her over dropping the camera which will surely seal her fate. The camera in question was found in the home's washing machine, containing pictures of the two in some hot and heavy activity, followed by pictures of Travis in the shower and photos taken accidentally during the murder.
What really went down on June 4, 2008? If Travis was afraid of Jodi, why was she at his house, having sex with him? Why would he have allowed her in? Realistically, she's a fairly small girl, especially next to him, with his aspirations to be a UFC fighter. He probably felt that she wasn't a threat to him. During the attack, it's clear that he tried to overpower her, as he has several defensive wounds on his hands. She had the element of surprise, as he surely thought she would never attack him, with intent to kill.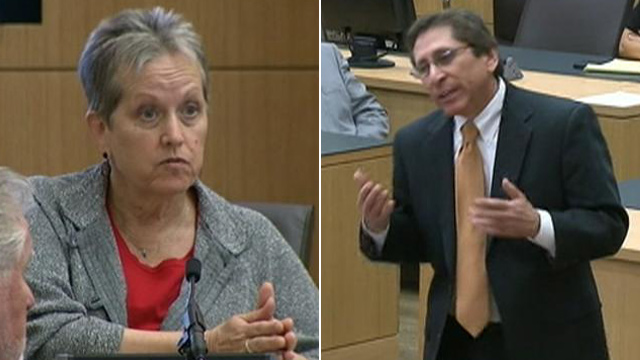 After Juan Martinez finished his cross, defense attorney Jennifer Willmott had the opportunity to redirect Ms. LaViolette, hoping to get the jury to see what the defense is putting forth. With the trial stretching out into the fourth month of testimony, they may start having court on Fridays, just to get it over with. Judge Sherry Stephens informed jurors on Tuesday that they should clear some dates into May. It's likely that LaViolette will be on the stand a few more days, answering questions from Ms. Willmott, then more by Martinez, before answering questions from the jury. How many more witnesses will the defense produce to back up Jodi's ridiculous claims of 27 (or 29) stab wounds, a gunshot to the head, and a throat slash, which nearly decapitated the 30-year-old Mormon businessman, being self defense?
Bookmark this link for continued coverage of this story and many others.
Like Jessica Knight on Facebook or follow her on Twitter! Check out her blog!
Photo 1 credit: Only Idiots Think Jodi Arias Is Innocent Facebook Page

Photo 2 credit: Stoopid Housewives
Photo 3 credit: ABC News