For 45 days, jurors in the Jodi Arias murder trial have sat in the courtroom, listen to the lurid tales of the adventurous sex life of Jodi and Travis Alexander, who she admittedly murdered on June 4th, 2008. They have heard the grisly details of the murder, how he was stabbed 27 times, shot in the head, and slashed across the throat. They have heard Jodi tell of abuse she suffered at the hands of this man, who all friends and relatives remember as a wonderful person, as well as abuse by her parents and other boyfriends. They have heard testimony from witnesses on both sides, most recently domestic violence "expert" Alyce LaViolette.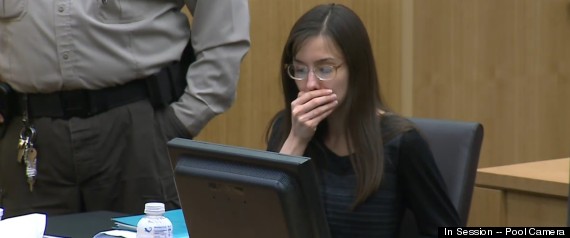 In court on Thursday, LaViolette answered questions from the jury. Arizona is one of the few states where the jury is allowed to ask questions of the witnesses, in this case read by the lovely judge Sherry Stephens. Off topic for a minute, many people are complaining about Judge Stephens lack of control over the courtroom. However, the defendant is still alive, not murdered by any of the court spectators, and everything seems to be going smoothly, regarding the testimony being given, so what's the problem? And back to it. The expert was asked questions about her time with Jodi Arias, her assessment that Jodi was a survivor of domestic violence, and whether or not she had affection for the defendant. A similar question was posed to the previous witness in this case, Richard Samuels, who had given Jodi a self help book. LaViolette was also asked about Jodi's truthfulness, and her manipulative behavior.
Alyce LaViolette, whether her expert opinion was paid for or not, has said that she believes Jodi was a domestic violence victim at the hands of Travis Alexander. She read through their journals, emails, text and instant messages and formed this opinion, which is not a very popular one. Most people would rather believe that Jodi is just a sociopath who murdered her lover in a jealous rage, which is just as likely true. The thing is, neither Jodi or Travis was completely honest, even in their journals, which would normally be the one place where your innermost thoughts are safe. He kept his sexcapades with Jodi well under wraps, with the rest of the Mormon community believing that he was a 30 year old virgin. He was not a perfect person. But the problem wasn't just him, nor was it her; it was them. Together, they were toxic.
Overall, the juror questions were well thought out, scads better than the ridiculous questions they posed to the defendant, after her 18 days on the stand. More juror questions will be presented to Ms. LaViolette on Friday, a day normally blacked out for this trial. That's part of the reason they are only on day 45, with the trial starting 3 and a half months ago. How much longer will the defense drag this out? Their stall tactics are just more and more obvious, as they try to keep Jodi off death row.
Bookmark this link for continued coverage of this story and many others.
Like Jessica Knight on Facebook or follow her on Twitter! Check out her blog!
Photo Credit: Huffington Post