The Jodi Arias trial was put on hold Thursday, as judge Sherry Stephens was not feeling well. Court will resume next week, with the accused murderess having very little else to testify to except for the events of June 4th, 2008, leading up to the brutal murder of Travis Alexander.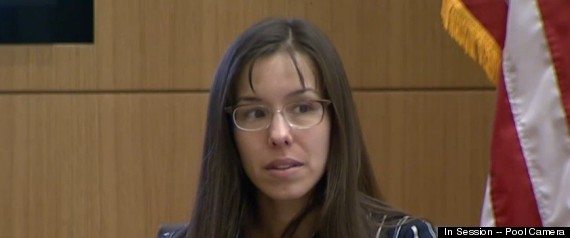 She has told the jury of abuse suffered at the hands of her parents, a series of boyfriends that mistreated her, leading right into her testimony that she killed Travis in self defense, fearful for her life as he attacked her, due to the violent behaviors she had encountered from him throughout their rocky relationship. How much more back story will she subject the jury (and the public) to? She has sat on the stand, humiliated, as the defense played a phone sex tape between her and the victim, which was somehow supposed to show that Travis Alexander was a sexual deviant, but really only further showed that Jodi Arias is a nut. She has read days and days of text messages between the two, which don't sound any different that any other texts between romantically involved people. This nonsense that she was a battered woman has got to stop. Yes, some of the texts and emails exchanged between herself and Travis were mean, but that's kind of how people of this generation talk to each other. An "F You" to the person you love is more common in a heated argument these days.
Steven Pitt is a forensic psychiatrist, who believes that Jodi's long, drawn out testimony will seal her fate, making her a sitting duck when Juan Martinez begins cross examination. Pitt seems to think that the jury is growing bored with her lies and "If there's not some eye-rolling at this point I'd be surprised." He also said, "This woman is Casey Anthony on steroids, and the big difference is pigs will fly before this woman walks out of courtroom," meaning she will not be acquitted like Anthony was, a case that thoroughly disappointed the whole country when the not guilty verdict was read.
This tale is just becoming more and more ridiculous, with the self defense, against the wonderful, devout Mormon businessman and entrepreneur, and pedophilia being brought in so unnecessarily. How does Jodi exposing all these horrible things about Travis (all of which friends and family members say are not true, and really, impossible) make her any less guilty of his murder? On her first day on the stand, she admitted to killing Travis. Isn't that what the case is about? She did stab him 27 times, then slit his throat, and shot him. She murdered him and should not get off on a technicality. Travis' family, who are present in court every day, as Jodi continues to spin this yarn, deserve justice for their brother. She faces the death penalty. Will she get it?
Photo 1 credit: Huffington Post
Photo 2 credit: NY Daily News
Photo 3 credit: Facebook