Many social media spectators have shown their support to the family and the memory of Travis Alexander, who was brutally murdered in June 2008 by then bed-buddy Jodi Arias. Through all the defense insistences that Travis was an abusive pedophile, followers of the numerous pages dedicated to his memory, as well as predicting the demise of his killer, have been completely dedicated to making known all details discovered about every aspect of the case. But have they taken their unfaltering support too far?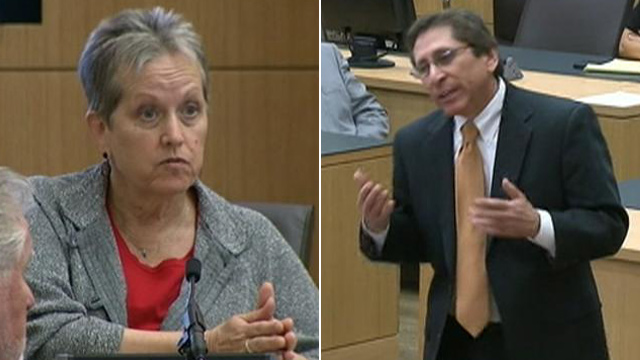 Most recently, the target has been defense witness, Alyce LaViolette, a domestic violence "expert". Travis supporters have decided that this woman is a complete fraud, publishing her website and office phone number, contacting agencies who have hired her to speak at their engagements, requesting she'll be removed, and suggesting people write negative reviews on Amazon for her book, It Could Happen To Anyone: Why Battered Women Stay. The contempt for this witness reached a high last week, when Ms. LaViolette was unable to continue her testimony, being taken to the emergency room for the stress caused by the "cyberstalking." "It's the electronic version of a lynch mob," said Judge Kenneth Fields, who is retired from Maricopa County Superior Court.
Perhaps, the bullying of Alyce LaViolette has gone too far. Whether or not you agree with her expert opinion, she's doing what she was paid to do. It's highly doubtful this is personal for her, other than a way to make her name known. However, that didn't work out to well for her in this case. Sree Sreenivasan, chief digital officer and professor of journalism at Columbia University, seems to think similar attacks on witnesses in high profile cases will come to be the norm, saying "This is a logical extension of witness intimidation, taken to an extreme conclusion."
Ms. LaViolette has been a counselor and psychotherapist for battered women since 1978, and now all of her credentials are tarnished, as she is now seen as a disgraced fraud. Does that fact that she believes Jodi Arias was a victim of domestic violence at the hands of Travis Alexander destroy all research and knowledge she has on the subject? Has social media taken it too far? On the other hand, she has kind of brought it on herself, arguing with Maricopa County's new golden boy, prosecutor Juan Martinez. Testimony by LaViolette will continue Thursday, as she is redirected by defense attorney Jennifer Willmott.
Bookmark this link for continued coverage of this story and many others.
Like Jessica Knight on Facebook or follow her on Twitter! Check out her blog!
Photo Credit: ABC News