Even as Detective Esteban Flores, the lead detective on the Jodi Arias case, showed her the naked pictures of herself found on the camera in Travis Alexander's washing machine, she continued to deny that she was even there. She peered at her likeness in the photos, asking the detective if he was sure it was her. As the detective continually points out, her behavior is not consistent with someone who has just lost a close friend, or someone who is accused of murdering that same friend.
When the interview continued on July 16th, 2008, Ms. Arias was in jailhouse orange and kept her knees pulled up to her chest as she regaled the detective with the tale of the masked intruders who entered the house, attacking Travis and, mercifully, allowing her to escape. She claimed that they had her family's address and she was worried that they would be harmed by the made-up intruders. Jodi now claims that the horrible injuries inflicted on her former boyfriend on June 4th, 2008 were actually caused by her defending herself against Alexander, who friends claim was a wonderful person and a devout Mormon.
If not for the rapidly growing evidence authorities have against her, including the photos and forensic evidence found at the scene, her story would seem almost plausible. If you've seen enough movies, you would believe that this could happen to someone right in front of you, with you the surviving heroine, saved to continue the work of a good man. Really, if Jodi Arias had been smarter, she may have actually gotten away with her crime.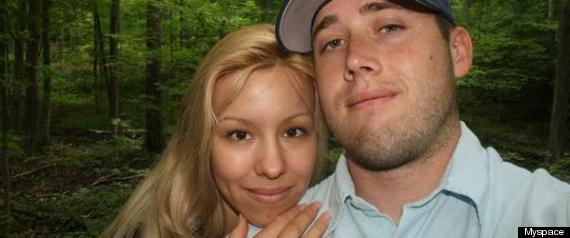 What is the defense going to say to combat all the evidence that Jodi stalked Travis, that she was obsessed with him, and that she premeditated his brutal murder? How are they going to twist the 29 stab wounds, the gunshot to the head, and the slash to the throat that nearly decapitated the 30-year-old motivational speaker, to say she was defending herself? Maybe that's why her lawyer appears to be sleeping unless he is requesting a mistrial, because he knows there's no chance. But, at $225 an hour, it's not really wasting his time, is it? Why does Arias continue to lie? At this point, she knows she's caught. Why not just fess up and take your punishment? It's not like she has anything to hide at this point.
Photo 1 credit: NY Daily News
Photo 2 credit: Huffington Post