Kate Middleton sparked speculation when she removed her gorgeous wedding ring while opening a cancer center for children on Thursday. So, no worries, everyone, Kate and Will are not getting divorced or splitting up!
When Kate Middleton arrived at the opening for the Royal Marsden Cancer center her beautiful blue sapphire ring was very much in place, however by the end of the visit it had gone MIA prompting everyone to voice their concerns that the newlyweds were having some martial issues.
However, that is far from the case. Apparently, while Kate and Will were inside the hospital visiting with the sick children and their families the Duchess of Cambridge was asked to remove her ring by nursing staff for "hygiene reasons."
"The plan was always to take it off when she went into the ward in the same way the Duke and palace staff rolled up sleeves and tucked ties into their shirts," said a palace source.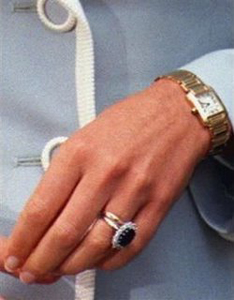 The Kate Middleton and her husband also had to use anti-bacterial hand gel as well so that they could protect themselves and the patients from catching any harmful germs.
See? There is usually a good explanation behind the things celebs (and Royals!) do and if people look into these stories more before starting rumors, the world would be much better off! After all, who needs gossip? It's often hurtful and insinuates lies.
Photo courtesy of She Knows