Kim Dotcom, internet entrepreneur and bigtime cult hero, believes that the takedown of his file-sharing site, Megaupload, was part of a huge political agenda from the U.S. government. Dotcom said the takedown was used as an opportunity for the Obama administration to prove their mettle, "It would probably have looked very bleak for [Obama] to go to Hollywood and ask them to help him get re-elected when he couldn't make SOPA (the failed Stop Online Piracy Act) happen for them. So Megaupload became a plan B." It may sound like a big conspiracy theory, but given the amount of pressure Hollywood's power players have put on the government to stop the piracy of their work, it's not so far-fetched. The way that the U.S. went after Dotcom is chilling. Just after shutting down the website, his New Zealand mansion was swarmed with law enforcement, helicopters, tow trucks and moving vans to remove his property, all before he even had a chance to try to defend himself.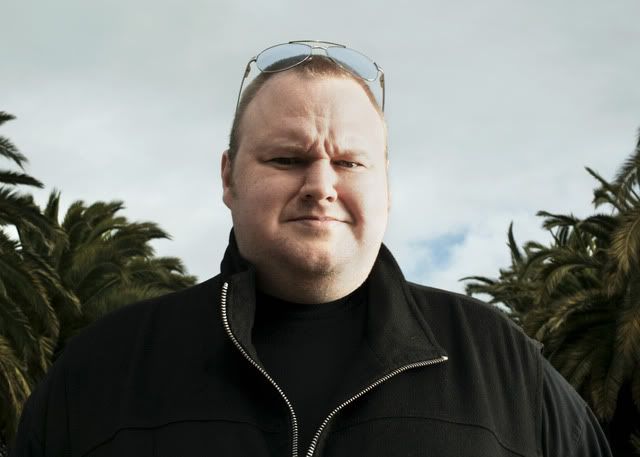 Dotcom, real name 'Kim Schmitz', didn't want to believe it himself. He said that he has felt "more American than Americans". He discovered that the Motion Picture Association of America hired former senator Chris Dodd to convince his 'longtime ally', Vice President Joe Biden, to go after Megaupload. Dotcom said, "If you connect all the dots, and you see who the operators are behind all of this, you understand the political scope. They had a political agenda, plus they had an upcoming election, and they needed an alternative for SOPA." Dotcom isn't a right-wing conservative who has ulterior motives to demonize the Obama administration, his issue is with the tactics, the spying and the con. He said, "I have a much better understanding now of how the US government operates and how much spying is actually going on, how much privacy intrusion is the reality today. We are very close to George Orwell's vision becoming a reality." He admits he has a criminal past, but does that remove his right to defend himself? Not to be spied on illegally?
"Over-reaching abuse of power, no due process, just completely insane," says Dotcom, talking about the similarities in his case and others like those of Julian Assange of WikiLeaks and Aaron Swartz, co-founder of Reddit. Swartz killed himself on January 11th, and while he did fight depression at times, his friends and family believe he could no longer take the 'bullying' by the Massachusetts U.S. Attorney's office. Rep. Zoe Lofgren (D-CA) has introduced "Aaron's Law", meant to amend the Computer Fraud and Abuse Act (CFAA) that was used to charge Swartz. Bottom line, this is about the internet freedom the government wants to control. The U.S. government (along with others) already spy on Americans online, make deals with companies to collect information on unsuspecting users and save all Twitter posts…for posterity, of course. All political parties are at fault. Kim Dotcom says he will fight, "And there's no way in hell that they have any chance to win this. I don't see it. I don't see it because I know I'm innocent, and the lawyers know I'm innocent, and we have right on our side."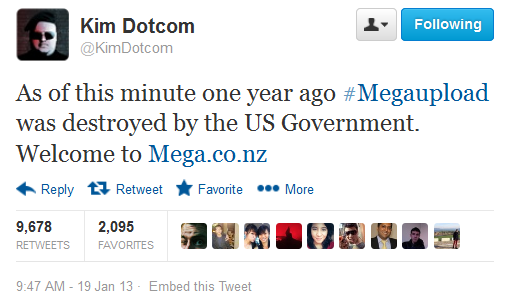 Dotcom's cloud storage and file sharing service, Mega, launched just hours ago. After only two hours online, it had over 250,000 new registered users. Fifteen minutes before the launch, Dotcom tweeted, "@KimDotcom 15 Minutes @BarackObama". Sometimes a little revenge is sweet.
Photo credit: Wired
© Margie Wilson-Mars 2013