Kim Kardashian and Kris Humphries stepped out together in New York City on Saturday, where the fashion entrepreneur and reality show diva made a bold sartorial statement while her NBA pro fiancé played it cool. But, was their outing a style slam dunk?
The Daily Mail certainly disapproved of Kardashian's neon smock dress and blue wedges, calling it a "garish ensemble" that hid her famous curves. "She looks best in the Mad Men style wardrobe of the '50s; cinched in waists, low necklines and structured bodices…" asserted the Mail.
While that may be true, it was nice to see Kardashian in something besides her signature, figure-hugging silhouettes. Everyone knows she has curves — in spades. She even proved her, ahem, assets were real when she agreed to a silly butt X-ray on Keeping Up With The Kardashians.
The bright, lime green color of Kim Kardashian's short dress screamed summer and it looked great against her olive skin. Paired with retro sunglasses and her most notable accessory, her knuckle-busting engagement ring, the frock (and Kim!) definitely glowed. Not to mention, the sky-high, strappy shoes, while borderline Lady Gaga-esque, were the perfect counterpoint. Of course, it doesn't hurt that the wedges gave the petite Kardashian another six inches or so.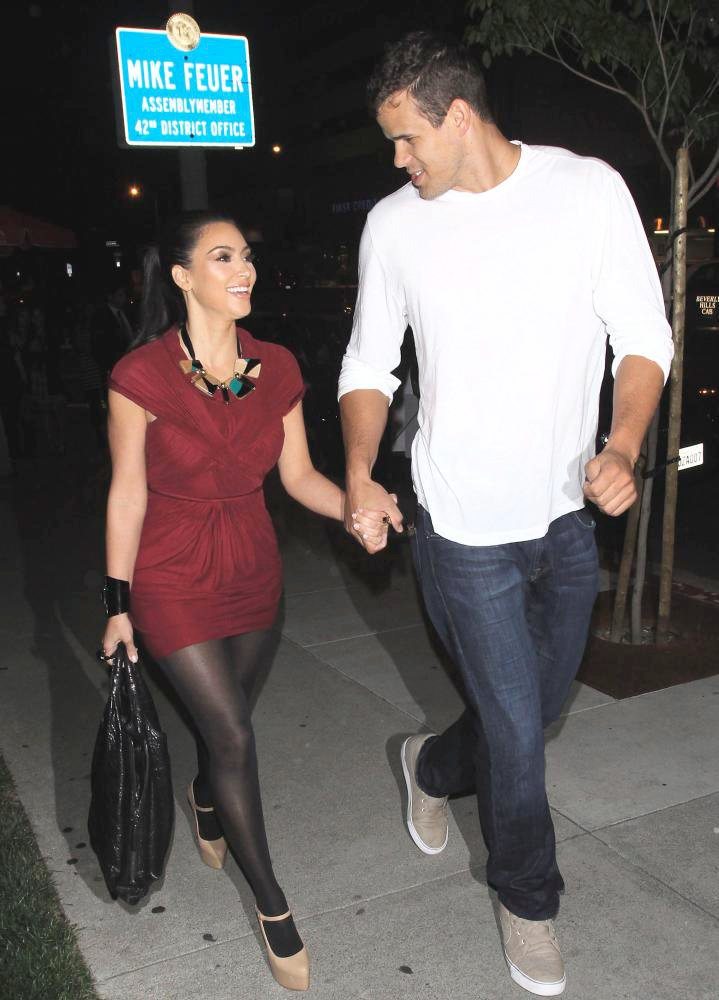 Still, the six-foot-eight Kris Humphries towered over his bride-to-be as they strolled, arm in arm, down the New York sidewalks. Despite her fun, Day Glo ensemble, the biggest spectacle was the odd couple that truly is Kim Kardashian and Kris Humphries. The couple's height difference is extreme, which was only compounded by their extremely different wardrobe selections.
Kim Kardashian's look was trendsetting and head-turning. Kris Humphries? White T-shirt, khaki shorts and generic white tennis shoes. Enough said!