Kris Jenner decided to copy daughter Kim Kardashian by dressing up in a Wonder Woman Halloween costume, but unfortunately her breast implants could have used a little help holding the outfit in place. Kris apparently didn't realize that she was suffering from a nip slip when she posted the photo of the outfit online.
Or maybe she did. Today is Kim's birthday, so perhaps Kris tho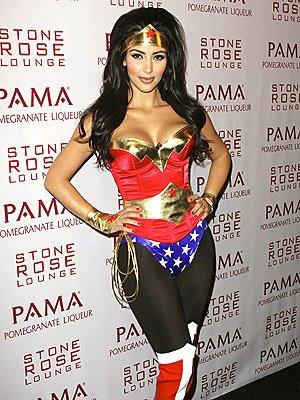 ught that a skimpy costume and a wardrobe malfunction would be a great way to steal the spotlight from her daughter and Kanye West. Halloween is still a few days away, so why else would Kris feel the need to rock her costume so early?
Luckily it doesn't look like Kris Jenner tried to squeeze into Kim Kardashian's Halloween costume from 2008. Kris' version is supposed to be a little more modest since it has a small, star-spangled skirt attached to it, but her nip slip makes it way more risqué than Kim's costume. Hopefully Kris doesn't try on that see-through leopard print costume that Kim recently posted a photo of herself wearing since her nipples might fall completely out in that one.
It's kind of sad that Kris is so desperate to be like her famous daughter—she wants to be able to wear the same sexy costumes as Kim, and she'll probably relish all the attention that she gets because of her little wardrobe malfunction. Kimmy recently suffered a minor malfunction of her own when she wore a see-through skirt with no underwear, so hopefully Kris doesn't decide to copy that publicity-grabbing move.
Poor Khloe Kardashian was the first to notice her mom's lack of double-sided tape in the Wonder Woman costume, which can be see here. Khloe tweeted, "Hi nips. That's my mom." Luckily Kris' nipples are somewhat censored in Khloe's tweet since the photo was taken from so far away.
So what do you think, will Kris try to further upstage Kim on her birthday by wearing a see-through skirt with no underwear? Or will the momager be too busy scheming to get Kanye West to propose to Kim to worry about her wardrobe?
Photo Source: Twitter