Kristen Stewart is one of the world's hottest stars and her fan base on any movie is built in. But is she an Oscar-calibre actress? The buzz over her soon to be released movie On the Road is that she gives the best performance of her life and an Oscar should be in her future.
So far Kristen has been filling theater seats because of the heat between her and Twilight co-star Robert Pattinson. Are they or aren't they a couple? That kind of press doesn't help her to be considered a "serious" actress but her non-Bella Swan projects have been favorably reviewed by movie critics. Although The Runaways was a box office disappointment, Kristen's performance got rave reviews.
On the Road is a classic novel which has a tortured history of making it to the screen, and lovers of the tale have always felt a movie has to be true to its spirit of non-conformity and resistance to "selling out" which is part of its appeal. So naysayers were a little disappointed when it was revealed that Kristen landed the role of Mary Lou, a character known for her maddening duality and sexual appetite. Could Kristen bring realism to the part?
According to E! Online, Hollywood columnist Scott Feinberg is spreading the word that everyone who's seen the raw version agrees that Kristen nailed the part, and several of the actors in the movie are selflessly proclaiming that she deserves an Academy Award for her work in the film.
On the Road will be released in December. Just in time for Oscar season… Go Kristen!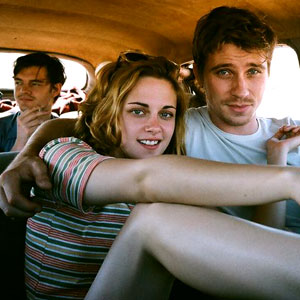 Image courtesy of E! Online