Lea MicheleÂ's 2011 Cosmopolitan cover is causing another controversy for the Glee star. Parents are up in arms once again because the 24-year-old hottie wore an elegant but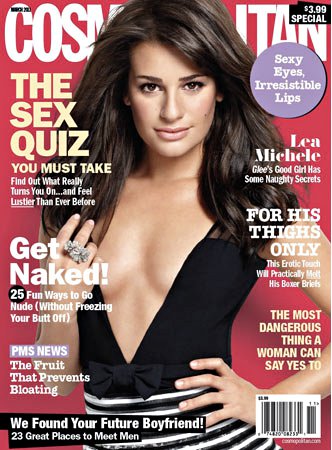 over-exposing dress for her March 2011 cover. LeaÂ's cleavage, as small as it was, was clearly visible.
WhatÂ's the controversy about? Well, the issue parents have and have had with Michele is that the character she portrays on FOXÂ's hit musical TV show, Glee, is a teenager. Thus, parents are concerned that LeaÂ's on screen and off-screen persona is a role model for their children. In short, parents donÂ't want a half naked former self-doubting woman flaunting her skinny goodness publicly.
However, CosmopolitanÂ's spokesperson stated: "We're thrilled to feature Lea Michele on the March cover of Cosmopolitan and think she looks stunning. Michele is a grown woman and Cosmopolitan is a magazine is for adults."
What do you think about the cover? Do you think Lea Michele was dressed inappropriately or do you think thereÂ's just too much hype over a non-issue?
© Evalynn J. Saeyang – Gather Inc. 2011
Photo Source: Cosmopolitan via AceShowBiz