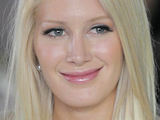 LOL!!! According to People, Heidi Montag plans to become a legitimate movie star and screenwriter after she leaves The Hills since it was canceled.

Montag said, "After working with Oscar-winner Ron Howard on a short film project [for FunnyorDie.com] and then working for days with the comedic genius director Dennis Dugan and his team of brilliant comedy visionaries at Happy Madison on Just Go With It starring Adam Sandler and Jennifer Aniston, I have been able to truly find what makes me the happiest in life."
Montag also added it was time "to truly show the world my creative ability … while playing … different characters… I am making the first 3-D beach comedy about a shark that attacks a small beach town and I save the day with my 3-D boobs… I've even written a role for Dolly Parton to play the town mayor!"
No one has picked up her project yet but Montag is hopeful this will be the beginning of her life as a mogul.
I'm gonna take a wild guest and say her new physic manager asked her into his dark office where the curtains were drawn and exotic incenses were lit filling the air with a cloudy mysterious smoke and as the two sat cross legged on an old oriental mat staring into each other's eyes, her physic/manager reached under his many layered robes, grabbed his magic 8 ball, asked if Montag should become a movie star/ screenwriter/ mogul and after giving his ball a shake it said, "Eh, sure, why not?"
SOURCE: Heidi Montag's Post-Hills Plans: Be a Hollywood Mogul

*********************************************************************************
photo source: Wenn
*********************************************************************************