On Monday the Cook County Medical Examiner's Office said there was a Chicago lottery winner poisoned with cyanide after he won the lottery scratch ticket jackpot of a million dollars.
Illinois lottery winner Urooj Khan was that victim, and an autopsy reveals that he was poisoned with cyanide less than a month after his $30 game ticket won in the state's "$3 million Cash Jackpot," according to CNN.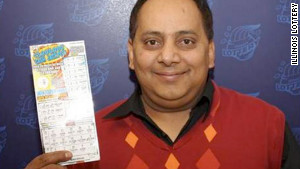 The 46-year-old man was so ecstatic when he first won the big payout that he tipped the 7-Eleven store clerk $100. And his family was so concerned about his death less than a month later of supposedly "natural causes," that they asked the medical examiner's office to take another look. And it is a good thing they did, as the lottery winner was murdered.
The state medical official has now changed the cause of death to toxicity in the poisoned lottery winner case, and they have ruled the manner of death as homicide. Police are investigating the death as a murder and have made no arrests in the case.
Urooj Khan is said to have stood proudly with his daughter and wife on June 26 as a few of his friends watched him receive the over sized check given to lottery winning recipients. That photo op is before taxes eat up most of their wins, of course–and before they actually get the actual winnings. In Khan's case, he was to eventually receive only $425,000 from his one million win, after taxes were taken out. But he was hopeful about investing in his dry cleaning business and paying off some bills nonetheless. Unfortunately for him, he never got to do either, as he immediately took ill and began screaming after eating a meal at home and going to bed.
Someone must have thought that practically half a million dollars was still worth it to kill another person, and that they would get their hands on it once Khan was dead. Now police are searching for that person, and they will, as they say in the movies, "follow the money trail" in order to find them.
The obvious place that trail would lead is to Khan's immediate family, as they would be the most likely to inherit all he left behind, including his lottery winnings, right? But the medical examiner's office points out that it was Urooj Khan's family who told them they were suspicious of the death, and requested they investigate further, according to Times Live.
So the question now is: Which part of his family went to the ME's office with suspicions, and which family members stand to profit in some way from his death that didn't raise the red flag? And who else could have profited from his death that might need to be considered?
(Urooj Khan photo credit: Illinois Lottery via CNN Justice)