A man resembling Tamerlan Tsarnaev was arrested and told by police to strip naked in Watertown, Massachusetts early Friday. In the video that was shown on CNN and other news outlets, the naked man looked like the older Tsarnaev brother, but other reports were that the man was not connected to the Boston Bombing and was released.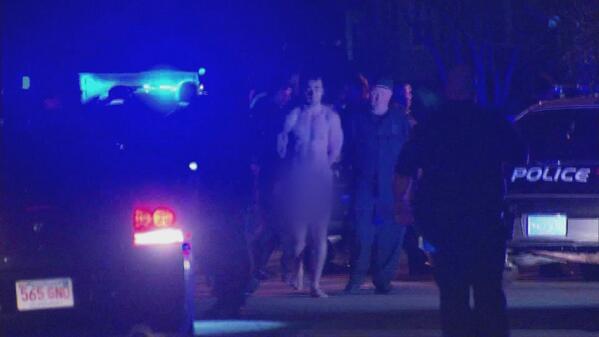 The Boston CBS Affiliate reported that a man was ordered to remove his clothes presumably over worries that he had an explosive device. Who was that guy? Newsday reported that "CNN and local TV station News7 WDHD reported that two suspects were in police custody early Friday after the gunfire in Watertown, just outside Boston and about four miles from the Cambridge-based MIT." This story is getting more and more difficult to navigate. Some glaring inconsistencies:
It was originally reported that murdered Patrol Officer Sean A. Collier was responding to a robbery at a 7-Eleven. But the robbery that had initially been attributed to the Tsarnaev brothers in the media was then reported to be a separate incident, even though the brothers had been in the 7-Eleven at roughly the same time. What a coincidence!
It was widely reported that during a chaotic firefight that resulted in Tamerlan being shot, his presumably panicked brother Dzhokhar "ran over his own wounded brother as he fled police." Dr. Richard Wolfe, head of the hospital's Emergency Department, however, disputed that claim. Yet other news reports claim that the 19-year-old fled on foot. So which was it? Either way, with the city on lock-down (an unprecedented move) and with the vast surveillance technology available to law enforcement, it seems strange that once Dzhokhar was spotted, that he would manage to escape the entire Boston Police Department for as long as he did.
The mainstream media's coverage of the events since the Monday Boston Marathon bombing that claimed the life of three people, and injured many others has been filled with error and irresponsible speculation about the perpetrators. It is difficult, sadly, to take news stories at face value, as there is more of a reward for publishing a story first than there is for getting it right. A mind-numbing and little reported arrest in Watertown, Mass shows a man that looks very much like suspect Tamerlan Tsarnaev. But it couldn't be him, because Tamerlan was killed. Who was the naked man? Why was he targeted by law enforcement? Why was he released?
Watch the local news report here:
Photo Source: inagist.com